LSK moves to court to challenge security regulations on gatherings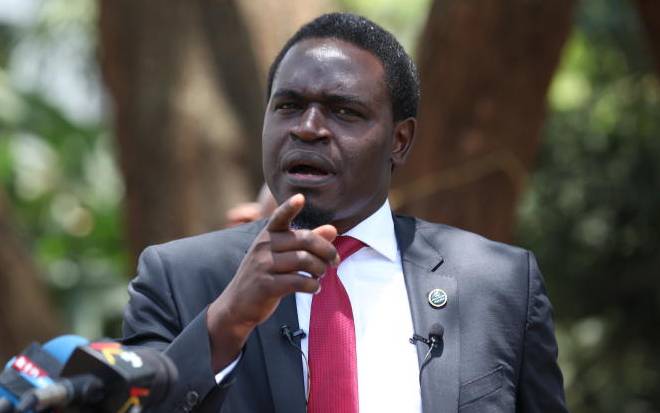 The Law Society of Kenya (LSK) will tomorrow move to court to challenge new tough security measures on political gatherings.
LSK President Nelson Havi yesterday termed the measures by the National Security Advisory Committee (NSAC) as illegal as it breaches the right to assemble.
"On Monday, LSK will go to court to challenge the National Security Committee because the decision to declare public gatherings illegal has no legal backing," said Havi.
"The constitution allows freedom to associate and to assemble, but now they want to tell us that all public gatherings are illegal. They don't have such powers to ban meetings," he added.
He made the remarks in Nairobi's Kibra during a tree planting event organised by the United Green Movement party led by former MP Agustino Neto.
The National Security Advisory Committee (NSAC) chaired by Head of Public Service Joseph Kinyua on Wednesday called for compliance with the Public Order Act during meetings.
The directive requires that a convener or any person intending to hold a public meeting or a public procession shall notify the officer commanding station (OCS) of such intent at least three days but not more than 14 days before the proposed the event.
Individuals holding public gatherings will also be required to "obey all orders given to him or her by the OCS or any police officer of or above the rank of inspector."
The Cabinet last week approved the measures and proceeded to form a multi-agency team to enforce them.
The Constitution states that a regulating officer can deny the assembly only if notice of another assembly at the same venue, time and date had already been received.
The notification of denial shall be in writing and shall be delivered to the organiser at the physical address specified.
Deputy President William Ruto became the first casualty of the tough measures on Thursday after police forcefully dispersed his meeting in Kebirigo, in Nyamira County.
Take a quick survey and help us improve our website
Take a survey
His planned meeting in Mumias today was also facing uncertainty after the police banned it, citing Covid-19 health protocols and security threats.
DP Ruto was scheduled to attend a church service and a fundraiser in Mumias East Constituency, where he was to be hosted by MP Ben Washiali.
Shianda Police Boss Christopher Wesonga declared the joint Sunday mass organized by the Catholic sub-parish of Burini, bringing together 10 churches.
"Any gathering will be considered a contravention of the Public Order Act," said Wesonga in response to a notification by organisers.
But Ruto allies have dared the State to cancel the meeting, days after the DP was forced by the police to abandon an event in Nyamira.
The politicians declared they will not accept further humiliation by State officials who want to block Ruto's 2022 presidential quest.