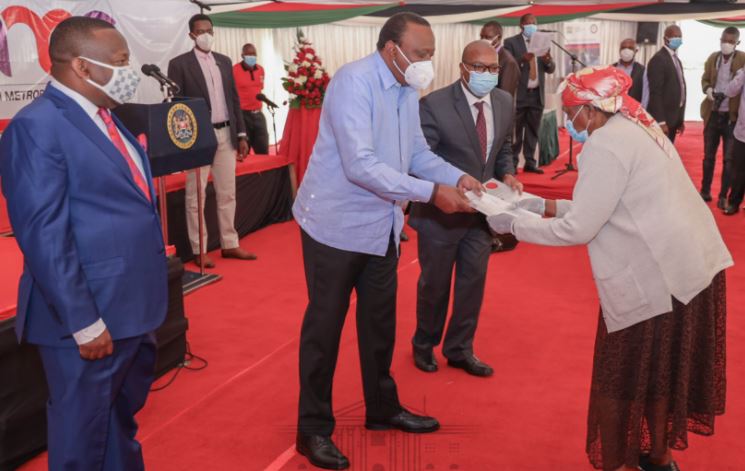 The government is set to issue 18,000 title deeds to Nairobi landowners from Monday for the next four weeks.
Nairobi Metropolitan Services (NMS) and in collaboration with the Ministry of Lands will embark on a joint program to fast-track processing, registration and issuance of land titles to property owners in Nairobi, a venture that is targeting landowners in informal settlement in the city.
The two Governments will process Site and Service Schemes, Tenant Purchase Schemes, County allotted properties, Land Buying Companies and other scheme owners free of charge.
Speaking at the Kenyatta International Conference Centre (KICC) yesterday, NMS Director General Major General Abdala Badi said that the program is targeting 21 wards in the informal settlements sections in the city.
Read More
He said the title deeds being issued to landowners in Nairobi will help unlock the city's business and investment potential.
This will be the second batch after 2100 land titles were issued by NMS in Nairobi, as part of President Uhuru Kenyatta's Nairobi Titling Program launched in 2018.
The initial issuance included parcels of land in Kayole, Kariobangi, Mathare and Dandora among others.
Land owners are advised to collect them at KICC, in accordance to Covid-19 Health Guidelines from Thursday.
The titling program has has been marred with wrangles, disputes and court cases in some of the informal settlements, which often thwart county government regularization efforts in the affected schemes.
Inordinate delays and bureaucracy at the ministry of lands and physical planning regarding processing of documents and registration of leases slows the titles delivery process.
Normally, it takes up to six months to process surveys and prepare Deed plans/Registry index maps at survey of Kenya and another three months to register leases at the chief land Registrar.
Lands Cabinet Secretary Faridah Karoney, said that the ministry will waive all fees on lands for the 15 sets and service schemes on the county government allotted lands and tenant purchase schemes. These will include rents owed to national government and rates owed to county government of Nairobi. Land owners will also not need survey fees as the government has waived it.
"This will enable the public to enjoy the waiver and the program as the President expects us to deliver 18000 titles in just four weeks," CS Karoney said.
She also encouraged Nairobi residents to take the earliest opportunity to get the titles to avoid last minute rushes as the ministry insists it is keen on maintaining the anti-Covid 19 rules.
Utilities-documents needed:
1. Plot Sale Agreements
2. Allotment letter for lands that were allotted
3. Copy of National Identification Card.
4. Succession Documents with the assistance of Legal advice
5. Passport Photos
6. Biometrics will be taken for proper documentation.