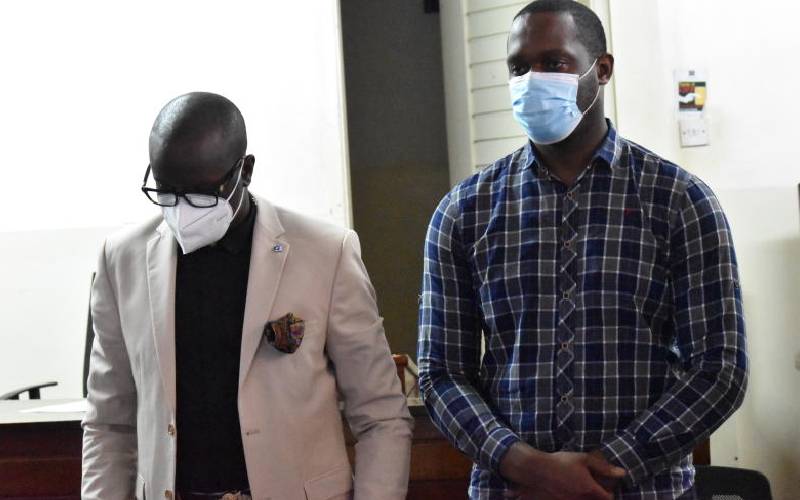 Businessman and murder suspect Chris Obure has been released on Sh50,000 bail for the charge of failing to secure his firearm.
His bodyguard Robert Bodo was separately charged on Friday with being in possession of a firearm without a licence and also released on Sh50,000 bail..
The two denied the charges before Magistrate Sinkiyian, who slated the case for hearing on September 30.
On the murder case, Obure and Bodo were charged on Wednesday. The bail hearing for that case is set for Monday.
Bodo was captured on CCTV picking a gun from the office of his boss Obure on August 21, 2020. According to the footage, Bodo went to Meriton Group office of Obure, Kilimani, at 6.26am on the day Omwenga was killed.
He then heads for a drawer and gets keys that open the safe. All this time he seems to be in communication with someone through a walkie-talkie. Bodo then takes a pistol and cocks it before tucking it safely and leaving the office at 6.29am.
According to footage captured as Omwenga was being taken to hospital, Bodo does not board the vehicle, instead, he heads towards Santeu Plaza that houses Obure's office.
At 11.42pm he walks to Obure's office and returns the firearm where he found it. He is also seen adding more bullets. He leaves the office at 11.43 and that is when he is said to have boarded a motorbike to Kilimani Police station.
Obure, through his lawyer PLO Lumumba said he had no idea his gun had been picked from the office, adding that he was busy attending meetings. A postmortem revealed that Omwenga was hit in the heart. Although Ouko claims the shooting was accidental, the police are investigating claims Omwenga had fallen out with Obure over a deal gone bad.