Nairobi Metropolitan Services boss Major-Gen Badi to sit in the Cabinet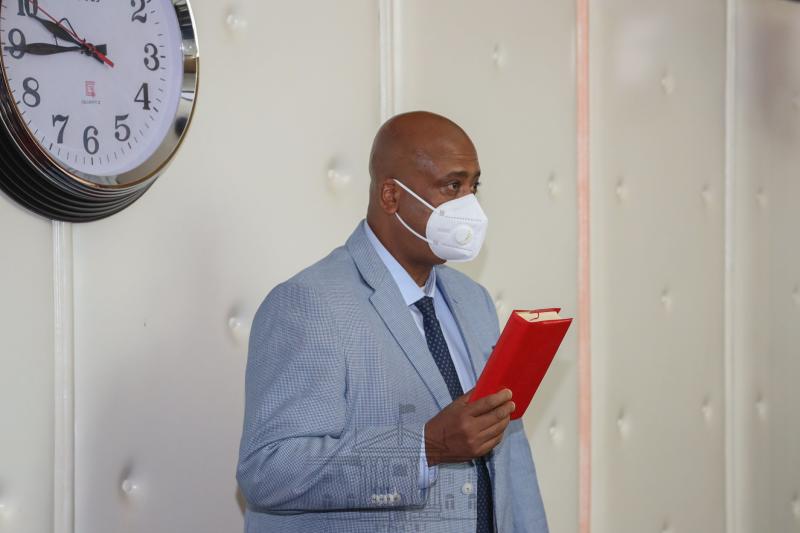 President Uhuru Kenyatta invoked Executive Order No. 3 of 2020 and directed The Director-Genera of Nairobi Metropolitan Service Maj-Gen Mohammed Badi shall henceforth attend all meetings of Cabinet and its Committees.
Major-Gen Badi is on secondment from the military.
Coming a day after he placed the running of the moribund Kenya Meat Commission under the Ministry of Defence, today's announcement is likely to give the critics of Uhuru's penchant for using ex-officers or seconded ones from the military and the police to fix moribund institutions grounds for more criticism.
Maj-GenBadi (pictured), today took the Oath of Secrecy, overseen by President Uhuru Kenyatta.
Badi now becomes the latest person to receive the oath, which is a requirement of all persons who attend Cabinet Meetings or participate in the conduct of Cabinet Business.
"The Director-General shall henceforth attend all meetings of Cabinet and its Committees, pursuant to Executive Order No. 3 of 2020," read a statement, from the Statehouse Spokesperson Kanze Dena Mararo.
This comes as a resolution of the Cabinet Meeting conducted today, by the Head of the Public Service, at the State House, Nairobi.
Major Badi has been overseeing the day-to-day activities, in Nairobi County, under the NMS, after Nairobi County Governor Mike Sonko, in a surprising move, signed off four key functions of the county, including planning, and transport, to the national government.
The move by the Governor, however, seemed rushed, resulting in incessant battles, in and out of court by the two.
The conflict eventually saw Governor Sonko fight relentlessly to retrieve the services he had given off to the NMS after feeling shortchanged.
The duo, Sonko and Badi, then engaged in a tussle that saw the Nairobi County functions come to a near stall, forcing the head of State to intervene and bring sanity to the City.
The latest development gives the NMS boss more clout as he handles a rebellion by Governor Mike Sonko.