Mwilu out to scuttle her trial, says DPP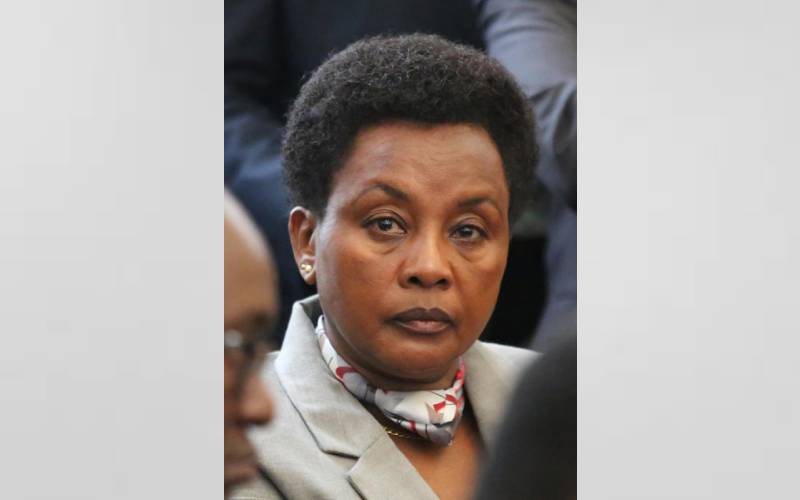 The Director of Public Prosecutions (DPP) has accused Deputy Chief Justice Philomena Mwilu of frustrating the hearing of a petition seeking her removal from office.
Through the Secretary of Public Prosecution Dorcas Oduor, the DPP accused Justice Mwilu of secretly going to court and obtaining orders stopping the Judicial Service Commission (JSC) from proceedings with the hearings of the case against her.
"It is a mockery when she continues sitting at the JSC and conducting disciplinary hearings against other judges while frustrating the conclusion of her misconduct case. She has come to court with unclean hands and should not be allowed to drink from the pure waters of equity," said Oduor.
The DPP made the claims in an application in which he is seeking, alongside the Director of Criminal Investigations, to be enjoined in a suit in which the DCJ has sued the JSC disciplinary committee investigating her conduct over claims of bias.
Justice Mwilu had on August 17 obtained orders stopping the JSC committee from continuing with the hearings of complaints filed against her by the DPP and DCI which seeks her removal from office over claims of misconduct.
Justice Weldon Korir ruled that the DCJ had disclosed prejudice she will suffer if the commission continues with the disciplinary hearings unless they are stopped pending determination of her suit.
Bias claims
The DCJ, in her petition, wants two JSC commissioners, Attorney General Kihara Kariuki and Law Society of Kenya representative Macharia Njeru to recuse themselves from the JSC disciplinary hearings over claims of bias.
According to her, Kariuki and Njeru had openly campaigned to have her removed from office and allegedly organised secret meetings with other commissioners to plot her removal.
Justice Mwilu only listed the JSC, Kariuki and Njeru as respondents in the petition.
But the DPP and the DCI argued that since they are the ones who filed complaints against the DCJ, they will be directly affected by the outcome of her petition and should have been enjoined in the case.
According to Oduor, the DCJ is giving the Judiciary a bad image by constantly trying to scuttle the conclusion of her disciplinary case which has been pending for more than one year.
She added that the DCJ occupies an important position which should make her a role model to the public and that any matter touching on her integrity should not be delayed through court orders.
"She is clearly bent on ensuring that the disciplinary case before the JSC never sees the light of day while she continues to enjoy the full benefits of her office, including presiding over disciplinary proceedings against her colleagues and junior staff at the Judiciary," said Oduor.
The DPP and the DCI also want the court to lift the orders that stopped the JSC from proceeding with the disciplinary case.
Justice Korir certified the application urgent and directed that it be served on the DCJ before the hearing on September 22.