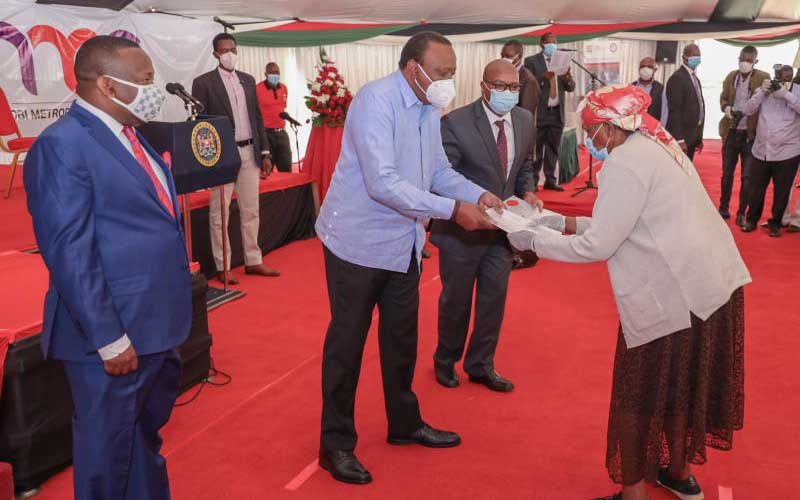 President Uhuru Kenyatta has censured Governor Mike Sonko over his fight with Nairobi Metropolitan Service (NMS) and its Director General Mohammed Badi.
Uhuru asked Sonko to stop being insecure about Gen Badi and support the NMS to provide services in the city.
"Badi has no interest in being a governor, speaker, or even an MCA. He works for me and when he is done with the assignment in Nairobi he will go back to the military, so I do not want to hear any politics around that," the Head of State said yesterday.
Uhuru's comment was in response to Sonko, who had implied he lost his place at City Hall to Badi.
Read More
President Kenyatta said the decision to have NMS manage the city was by mutual consent.
He was speaking at the Kenyatta International Convention Centre when he presided over the issuance of 2,100 title deeds to landowners in Kayole, Dandora, Mathare and Kariobangi estates among other neighbourhoods in the city's Eastlands area. A further 28,000 title deeds will be issued in the next two weeks to members of Embakasi Ranching.
The president said Nairobi was in a deplorable state despite being the most important city in East Africa.
"If you go around the city you will find people living without roads, water, electricity and sewage yet we call Nairobi the richest city in East Africa. People cannot continue living the way they do," said Uhuru.
Service delivery
"We agreed on the need to work together and to put aside politics and those who want to bring disputes. Our duty as elected leaders is not to argue and insult each other. Our role is to serve the people and make sure we improve their lives," he said.
Uhuru said NMS was rolling out a comprehensive service delivery programme, which has seen it drill over 200 boreholes to provide free water, kickstart the construction of 21 new hospitals and upgrade access roads across the city in recent months.
Sonko denied he was opposed to the NMS, insisting reports he had reconsidered the transfer of deeds from the county government to the NMS were propaganda. He said he was ready to work with Badi if he is not pushed out of City Hall.
"There is a lot of propaganda going around that I do not want NMS. Please ignore them. I am the one who came to you and asked for help," said Sonko.
Sonko and Badi agreed to end their feud and work together. The two will preside over the launch of Michuki Park on Friday.
"I apologise for all the ill I have spoken about my brother Badi," Sonko said.
"Going forward we will work together. Politicians were intruding into our affairs with their bad politics but now our sole concern is how Nairobi will be developed."
The easing of strained relations between Sonko and Badi comes a day after Nairobi County Assembly Speaker Beatrice Elachi resigned.