CS Matiang'i to escalate City Hall matter to top security organ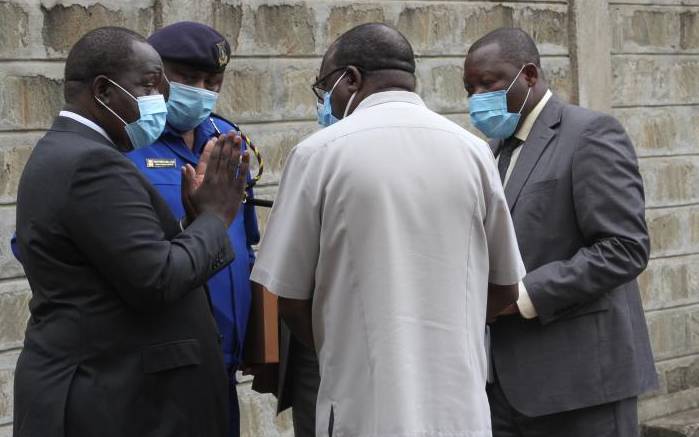 Interior CS Fred Matiang'i yesterday said he will seek the guidance of a top security organ chaired by President Uhuru Kenyatta over the troubles at the Nairobi County Assembly.
Matiang'i's said the Assembly, located at City Hall, has turned out to be a "battle zone" and is now a major security challenge.
The CS announced that as a stop-gap measure, he had asked Inspector General of Police Hilary Mutyambai to investigate the number of gun holders in the Assembly and immediately have them disarmed.
He said this decision was reached after police officers who were deployed to deal with chaos witnessed at the Assembly on Tuesday recovered 14 guns from some of the suspects.
"This is a war zone, not an Assembly. I will now take this matter all the way to the NSC (National Security Council)," Matiang'i told senior police chiefs, including Mutyambai.
The NSC is the highest security organ in the country and is chaired by the president.
Matiang'i said he will also seek the advice of the National Security Advisory Council (NSAC).
"We can't go on like this," Matiang'i said yesterday.
From his remarks it is now clear that the next course of action the security agencies take on the matter will have the endorsement of the Head of State.
Matiang'i spoke at the Kenya School of Curriculum Development in Nairobi during the launch of a book on policing by former IG Joseph Boinnet. The event was attended by senior police, including deputy inspectors general Edward Mbugua and Noor Gabow.
The CS at the same time condemned the assault of Mlango Kubwa MCA Patricia Mutheu.
Police officers, among them a senior officer based at Vigilance House, were caught on camera clobbering the politician at the county offices.
Matiang'i yesterday said he had discussed the matter with the IG, but did not reveal if any action would be taken against the officers.
The Standard established that the senior officer was still in office yesterday and no action had been taken against him.
"It is not right and it's not fair. It can be frustrating and painful (for police) but let's not get there," said Matiang'i.
Ironically, the launch of Boinnet's book, which documents the change of police from use of brutal force to a people friendly officers, came hours after the brutal attack on the MCA.
Mutyambai, however, steered clear of the assault by his officers. He said his administration was committed to reforming the police service.
"We want to leave the police a better place. This is one of the objectives of my administration," Mutyambai said.