Kenyans spared lockdown as bars, eateries hit harder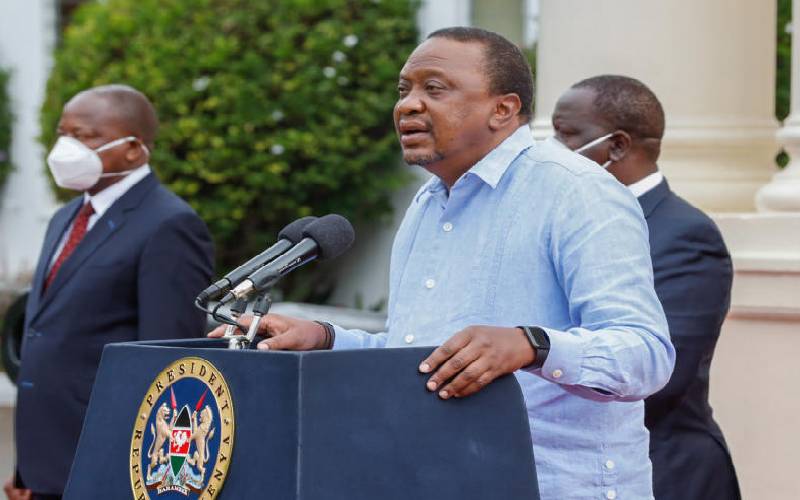 Kenyans have been spared a lockdown as President Uhuru Kenyatta extended the current Containment measures with minimal adjustments amid increasing Covid-19 cases. Curfew
The president in his address yesterday, while extending the 9pm to 4am curfew for another 30 days, reduced the closing time for eateries and restaurants to 7pm for 30 days.
On his July 6 address where he lifted the lockdown order for Nairobi, Mombasa and Mandera, he had extended curfew for 30 days and allowed opening of eateries.
This allowed the sale of alcohol, which the president yesterday blamed as a foremost agent in the spread of the disease.
"Contact tracing and the recent surge of infections indicate that our socialising without regard to protective behaviour particularly in environments serving alcohol has become one of the greatest risk factors in our communities," he said.
In the new measures, President Kenyatta outlawed sale of alcohol in all eateries and restaurants and extended indefinitely the closure of bars, issuing a stern warning accompanied with directives to the Inspector General of Police.
"The Inspector General of Police shall cause withdrawal of all licences for bars operating in breach and the withdrawal will be permanent. The Inspector General shall file weekly returns of all licences withdrawn to Cabinet Secretary Ministry of Interior," he said.
The IG was also directed to ensure police officers spare no politician or individual, regardless of their social status, who flouts the curfew hours or the protocols issued by the Ministry of Health.
This directive is in response to cases of politicians and government officials going about their business in disregard of the restrictions issued by the ministry.
An incident involving Nairobi Senator Johnson Sakaja, who was fined Sh15,000 for being found in a bar after 10pm, is one of the cases involving a high-profile figure.
Sakaja, who was the Senate Ad Hoc Committee on Covid-19, later resigned from the position.
"The rules are for all of us and rank or status does not exempt anyone," said the president.
With 17,975 confirmed cases, majority of which have been recorded after the July 6 address, Kenyans were expecting more stringent measures.
The president however said lockdown would not be beneficial even as he acknowledged that in the last 21 days, there has been a surge in numbers.
"Lockdown will not help. The government cannot have a policeman at every street and every home to enforce the rules. We need, as citizens, to hold ourselves and one another accountable," he said.
"If someone enters your shop with no mask you must insist that they wear one. If you enter a restaurant and the waiter has not complied with the health protocols, walk away and take your business to another restaurant."
Even with the low number of deaths now at 285 compared to other countries, President Uhuru warned that Kenya is staring at even a worse situation if appropriate measures and personal responsibility are not taken.
"Unfortunately, they will be more. The only question is whether we shall emerge with low numbers of deaths or we are going to suffer a catastrophe," he said.
He said just by having a low case fatality rate of 1.6 per cent should not be a comfort to Kenyans that the disease is not as worse as it is in other countries that have recorded more deaths.
"In many countries, they even lack sufficient space to hold bodies in mortuaries and they are left lying on streets," he said. "This cannot be our fate in Kenya."
The president said countries whose citizens have been careless or adopted a relaxed attitude have suffered greatly despite their advanced medical and health systems.
"Let us not think we are immune or special. Let us not follow the example we have seen worldwide," he said.
In anticipation of more numbers, he directed the Ministry of Health to develop protocols that will see retired staff specialised in intensive care absorbed back into the system.
All heads of government institutions like stadiums and education facilities were also directed to be ready to provide them as isolation facilities upon request by the ministry.
But in the same breath, the president appeared to offer a lifeline to the education sector over an earlier declared lost 2020 academic year as he said a meeting will be called by Education Cabinet Secretary George Magoha to discuss the matter.