Raila, Nyanza leaders pay tribute to late Tanzania leader Mkapa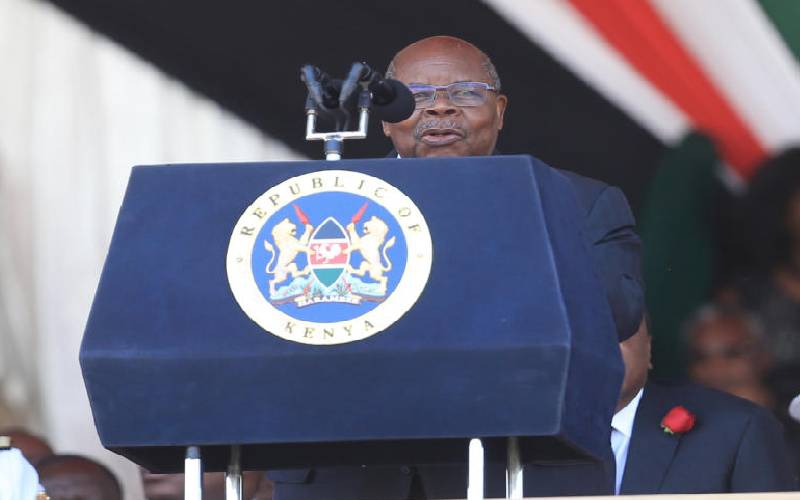 ODM leader and African Union Envoy for Infrastructure Raila Odinga and Nyanza leaders have paid tribute to the late third President of Tanzania Benjamin Mkapa.
Raila was saddened by the news by President John Magufuli shortly after midnight on Thursday that Mkapa had died aged 81 at Dar Salaam Hospital.
Magufuli issued a seven-day mourning period during which the country's flag will fly half-mast. Tanzania is a key member of the East African Community (EAC), partner state.
In a press release, Raila mourned President Mkapa as great a pan-Africanist, who championed democratic ideals for the common good of all.
He also described the late Mkapa as a true believer in South-South Cooperation and a global statesman.
Mkapa led Tanzania from 1995 to 2005 before handing over to President Jakaya Kikwete, without resisting to hand over power- a common characteristic of imperial African Presidents.
''I mourn former President Benjamin Mkapa, a great friend of the Kenyan people, a pan-Africanist, a true believer in South-South Cooperation and a global statesman,'' Raila said
In Kenya, Raila said:'' We retain fond memories of his mediation efforts alongside Dr Koffi Annan and Graca Machel that helped the country return to peace after the 2007-2008 election violence.''
The former PM recalled that Mkapa believed in regional integration and championed the revival of the East Africa Community for the greater good of the East Africans.
In his death, Raila said Africa has lost a giant.
''My thoughts and prayers are with his family, President John Pombe Magufuli and the great people of the United Republic of Tanzania,'' he mourned.
But these are not only the memorable moments of the historical accounts of the late Mkapa.
Kisumu city charter
Yesterday, Luo Council of Elders Chair Ker Opiyo Otondi, Kisumu Governor Prof Anyang Nyong'o recalled the role he played in resolving the Kenyan post-election deal between President Mwai Kibaki and Raila.
He also played a pivotal role in asking former President Daniel Moi to award Kisumu town a charter that would later transform it into a city.
Nyong'o said Mkapa played an instrumental role as Kisumu people demanded the city status at the peak of the KANU/NDP merger meeting held at Kisumu state lodge.
"It was Mkapa and Raila who talked to Moi to award Kisumu the city status and stressed to Moi the need to work with Raila to build national cohesion," he said.
He added:'' The people of Kisumu will always remember him for his recognition of growth strides the lakeside city had made and its significance in the economic growth of the region which led to the conferment of the city status by the late Moi.''
''On behalf of my family, my own behalf and the people of Kisumu, I send my heartfelt condolences to the family and the people of Tanzania at this trying time,'' said Nyong'o
Otondi also reminisced how Mkapa was among the members of the Kofi Annan-led team that was negotiating a settlement following Kenya's worst post-election violence in late 2007 and late early 2008.
Praises Raila
Mkapa in his recently published autobiography, My Life, My Purpose, documented his role in peacebuilding and conflict resolution in Kenya during the 2007/08 post-poll chaos.
A quick preview of the book shows how he articled that it was not easy to broker a truce between President Kibaki and Raila at the height of bungled elections.
He showered Raila with praise in the Book as a man of noble character, humility, and high understanding who believed in peace after he accepted the peace deal.
This gave birth to premier position, which Raila would later occupy in the 'half a loaf' government during Kibaki regime.
In the book, Mkapa notes that Uganda President Yoweri Museveni nearly spoiled the broth in the mediation deal.
Raila had claimed that "a clique of people around President Kibaki" sought to rig the election, but said that democracy "was unstoppable like the flow of the River Nile".
But later he subsequently cancelled the rallies planned for January 8, saying that the mediation process, facilitated by Ghanaian President and African Union Chairman John Kufuor, was about to begin.
President Kibaki had officially invited Kufuor, so that the much-needed negotiations would take place in a peaceful atmosphere.
Former Foreign Affairs Minister Raphael Tuju now CS without a portfolio said that by calling off the rallies, Raila opened the way for negotiation and reconciliation.
Mkapa notes in the book that some Kenyan leaders were cagey to broker peace deal and wanted President Kibaki to defy Raila and move on.
This did not please Raila. The mediators had to convince him to champion peace. This is after the current Machakos Governor Dr Alfred Mutua, claimed Kufuor came to take tea and not to "negotiate with the warring factions regarding the elections.
The likes of former Ministers Martha Karua and Amos Kimunya downplayed the seriousness of the post-election crisis, saying that this was a local problem that would be dealt with locally.
They even urged the displaced people at various police stations and camps to 'return home' and generally tried to dissuade international attention to the crisis, in vein.