Sakaja pleads guilty, fined Sh15,000 for violating rule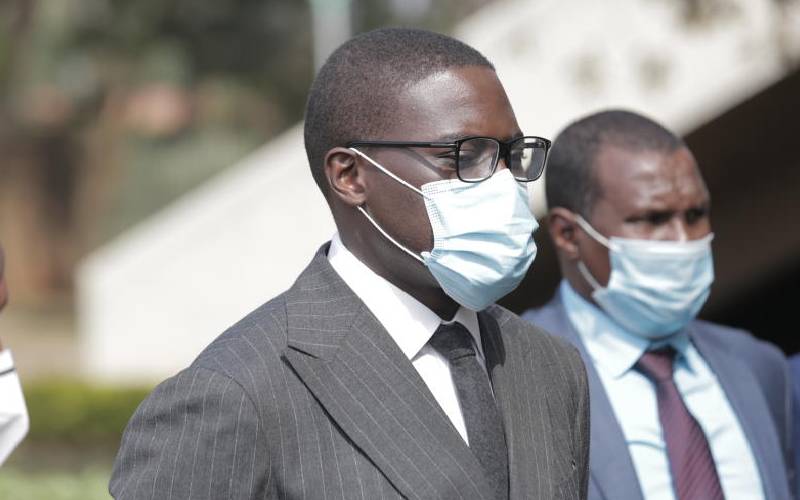 Nairobi Senator Johnson Sakaja has opened a new chapter of his life after pleading guilty to violating curfew rules enforced to tame the spread of Covid-19.
Following his admission yesterday, the senator will at times be required to fill a section that he has been fined or jailed for an offence.
Kasarani stadium special court Chief Magistrate Roseline Oganyo fined Sakaja Sh15,000 or in default, spend three months in jail.
The court deals with offenders flouting Covid-19 restrictions.
"As submitted by senior counsel, politicians are also human beings and can err. Again as submitted by counsel, politicians are not above the law. Kenya and the world over are ailing from an unseen enemy, the coronavirus and measures have been put in place to which the honourable senator contributed in making to help curb the situation. However, given the senator's position in the society as a leader, the society looks upon him to comply with Ministry of Health guidelines and the law," said Oganyo.
She added: "Much was expected from him. The court observes he has resigned from a vital committee on coronavirus. However, that pronouncement ought to be put in writing to the Senate, to confirm to Kenyans, and that it is not a public relations exercise meant to persuade this court."
The maximum sentence for the offence is Sh20,000 or in default, six months in jail, or both.
Take a quick survey and help us improve our website!
Take a survey
The prosecution urged the court to hand the senator a harsh punishment to serve as an example to others in power.
Clad in a charcoal grey suit and a white shirt, the senator pensively stood next to his lawyer and Makueni Senator Mutula Kilonzo Jr, as the magistrate read the sentence.
Lawyers John Khaminwa and Julie Soweto pleaded with the court to hand Sakaja a lenient sentence.
In his submissions, Khaminwa said the senator had owned up to the crime, unlike majority politicians who tend to fight through denial.
"I have represented many politicians in court. This senator is the first who has decided to tell me he will plead guilty. He has said in strong tone: Khaminwa I want to plead guilty. He has opened a new chapter of leadership in this county, a new generation of leadership. Let us not approach this issue in a narrow manner as my friend has asked. This court has been given an opportunity to show that Senator Sakaja is a great man and has a great future.
Soweto on her part submitted that the senator had already been punished enough by losing his seat as the chair of a Senate committee on Covid-19.
She said by his admission, he had set a good example to other leaders and Kenyans that no one was above the law.
"The very fact that the senator stands here like other Kenyans who have been brought to your today is clear that no one is above the law. The very fact that the Senator of Nairobi County has had to be humbled enough to appear before you, to appear before the country and make an apology is a fact that no one is above the law. There is no harsh penalty or punishment than being forced to resign from a position that he holds. We will plead that the court does not punish him any more than the world had punished him," argued Soweto.
The senator was arrested at a bar in Kilimani on Friday after curfew hours.
Sakaja was also accused of inciting some revelers to defy police orders to leave the bar.
He also allegedly threatened to have all officers at Kilimani Police Station transferred within 24 hours.