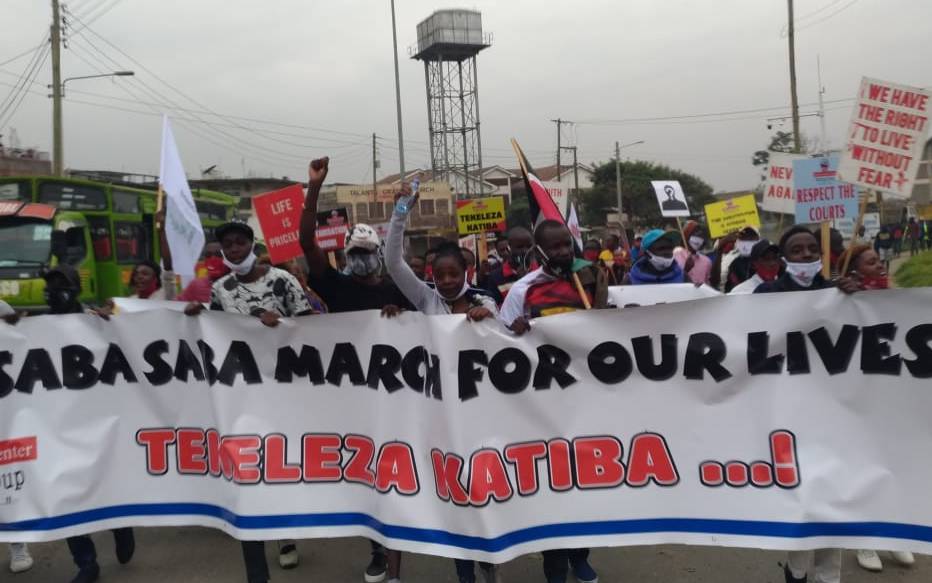 Security has been beefed up at various places in Nairobi as a group of activists head to the streets to mark the 30th Saba Saba day today.
Police fear the march may turn violent and become a source of spread of Covid-19 pandemic and want the organisers to take responsibility for any such incidents. The group planned to congregate at Parliament Buildings with a theme of respect for the constitution.
On Tuesday morning, chaotic scenes were witnessed as the police lobbed teargas to disperse protesters in the Nairobi Central Business District. Protesters were arrested in other places like Kibra, Kayole and Kariobangi.
At Mathare Justice Centre, clouds of teargas engulfed the sky as activists engaged the police in running battles.
Under trendy #SabaSabaMatchforOurLives and #SabaSabaAt30, Kenyans shared various video clips of activists marching on the streets in the commemoration of the 30 years of Saba Saba. Saba Saba is characterised with liberation struggle, constitutional reforms and championing for human rights. Here are some of the tweets as Kenyans commemorate the 30th Saba Saba day.
Read More
Teargas has become the weapon against those seeking any form of justice. History repeating itself, 30 years later. SHAME #SabaSabaAt30 pic.twitter.com/T3u70uf8tP — Victor Amadala (@ItsAmadala) July 7, 2020
#SabaSabaMarchForOurlives @oeditar and other HRDs marching peacefully to mark #SabaSabaAt30 but have been arrested by @NPSOfficial_KE officers contravening article 37 of the constitution on freedom of assembly, picket,and to present petitions to public authorities #FreeHRDs pic.twitter.com/6Sr6E6Rx0d — Shikoh Kihika (@Shikohkihika) July 7, 2020
Comrade @happyolal now being held at Pangani DCI.#SabaSabaMarchForOurlives #SabaSabaAt30 #FreeOlal

Among the arrested is Comrade Vincent from Kibra ???????????????????????? pic.twitter.com/LiE7mdyrfe — Mwalimu Mutemi wa Kiama (@MutemiWaKiama) July 7, 2020
#SABASABA commemorations gets off to the usual start as POLICE teargas MATHARE JUSTICE CENTER the starting point of today's peaceful walk. It will be a long day. pic.twitter.com/2jbtJ3XhBF — James Smart (@jamessmat) July 7, 2020