I'll be out of here soon, embattled Maraga declares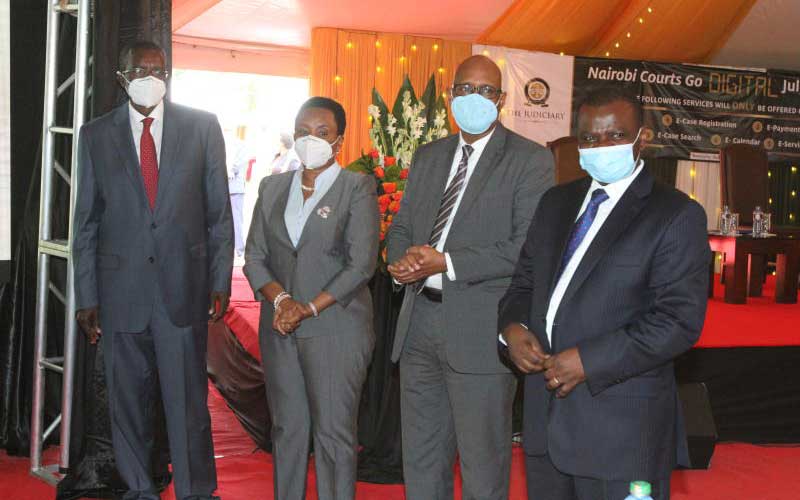 Chief Justice David Maraga is set to leave office in November, almost three months before he attains the retirement age of 70.
Speaking during the launch of the digitisation of court operations in Nairobi, yesterday, the CJ said he has started preparing ground for his retirement and expects the Judiciary to send him on terminal leave before end of the year.
"I have heard people saying am retiring, but am still around for a little while. A retiring judge normally takes terminal leave and the Chief Registrar of the Judiciary will write me a letter in November for my terminal leave," said Maraga.
Born on January 12, 1952, Maraga turns 70 which is the mandatory retirement age for judges on January 12.
It was expected that he would make an early exit like his predecessor Willy Mutunga who retired one year before his retirement date but he stayed put, stating that he would complete his entire term in office.
His exit is something the Judiciary has been preparing for after the Judicial Service Commission (JSC) in its medium term report set aside some funds for the process of recruiting a new Chief Justice.
Maraga also rekindled his wars with the Executive yesterday, saying that if he was to meet President Uhuru Kenyatta today, the one thing he will tell him is to appoint the 41 judges that have been a bone of contention between the two arms of government.
"It is something that is in public that our difference with the President is his failure to appoint the judges who were nominated by the JSC. If I had a chance to meet him, I will ask him to appoint the 41 judges and we move on," said Maraga.
The CJ has had a frosty relationship with the Executive since September 2017 when he led the Supreme Court in nullifying President Kenyatta's win, leading to the President's promise that he will 'revisit' the Judiciary once he gets back to office.
Maraga's frustrations reached boiling point in November last year when he declared that he was aware of secret plans by senior members of the Executive to force him to retire before his term expires.
According to the CJ, unnamed Cabinet Secretaries and Principal Secretaries had promised to kick him out before the end of 2019, but he insisted he would not resign even if pushed to the wall.
Humiliations and public shame
At the time, the CJ threatened to boycott some State functions over what he called humiliations and public shame he said he was being subjected to bySstate officers who undermined his office.
He lamented that he has been denied police clearance when travelling; he doesn't have a Mercedes Benz and not allowed to access the VIP lounge at the airports when travelling out of the country.
Maraga's tenure has also been characterised with fights for Judiciary funding and at one point told Kenyans to brace for more tough times in accessing justice, delays in handling their cases and lack of basic services after the Treasury slashed Judiciary budget by Sh3 billion.
"We have been subjected to so many problems and my hope is that my successor will not undergo the same frustrations of begging the Executive for fair treatment," he said.
Last month, the CJ took President Kenyatta head-on for refusing to appoint 41 judges nominated by the JSC and declared the president was out of order.
According to the CJ, it is a mockery for the President and his government to demand that citizens obey its laws when they disobey the law themselves, exposing members of the public to suffering as a result of the wilful defiance of court orders.
His outburst sparked a furious response from the President through Attorney General Kihara Kariuki who stated that the CJ was only seeking public sympathy to hide his failures and mismanagement of the Judiciary.
When launching the digitalisation of court process in stations within Nairobi, the CJ said that there will be no more physical files as all proceedings will be digital.
The new technology adopted by the Judiciary will see court cases filed online, all payments for court fines and cash bails made electronically, all case searches done online, the court calendar managed electronically and other services also moved online.
"There will be no more lost files and missing documents in court files which has been a rampant occurrence in our courts. We know that the files normally don't get lost but are hidden through malicious acts of our staff in collusion with some lawyers and outsiders," said Maraga.
Commercial disputes
The public will also be able to monitor the progress of their cases without going to court by sending a text message through a code that will give them full update on their cases.
Speaking at the same event, yesterday, East Africa Community CS Adan Mohamed said foreign investors are scared of investing in the country due to the long duration it takes to determine commercial disputes.
"The investors normally ask us how quickly and fairly their disputes would be resolved if they come to Kenya. We know some businesses are closing down while others are shying away from coming because of the delay but we hope this will change with the digitization of court cases," he said.
Director of Public Prosecution Noordin Haji urged the Judiciary to expand the virtual courts to include video streaming of proceedings to allow the public participate.
Law Society of Kenya President Nelson Havi said their members have embraced the electronic proceedings of court cases, but warned the Judiciary to ensure credibility of the process by deterring hackers who can manipulate the system.
Deputy CJ Philomena Mwilu said the Judiciary will resist any attempt to return them to analogue systems and that they will do anything to ensure virtual hearings are a success.