Sikh community channel food aid to slum families affected by Covid-19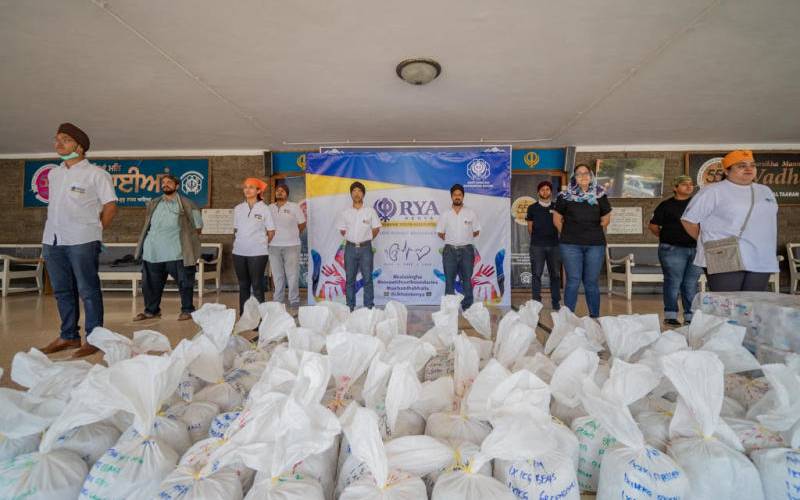 Families facing starvation as a result of harsh economic effects prompted by Covid-19 pandemic will receive food aid courtesy of Ramgharia Sikh Temple.
The temple, through its Ramgarhia Youth Association (RYA) in Pangani, Nairobi, said the initiative has so far benefited more than 48,000 people.
The RYA has been distributing face masks, Personal Protective Equipment (PPEs), soap, hand sanitisers and foodstuff to last the families through tough times ahead.
"This is a noble cause we as Sikh community are committed to pursuing as a religion to ensure no one sleeps hungry during this difficult time. The Covid-19 initiative which started in March 2020 targets the most vulnerable in the communities," said association's chairman Inderjit Thethy, adding, "before the pandemic the institution supported other noble projects in the society."
So far 180 tons of foodstuffs have been donated to families in Kibera, Mathare, Kawangware, Deep Sea and Mukuru slums among other areas with more expected to benefit from the initiative with six counties lining up to benefit.
The initiative has seen the temple partner with other like-minded institutions like Red Cross in an effort to create positive impact and reach more deserving Kenyans.
East African Ramgarhia Board President Jaswinder Singh Virdi in his goodwill message lauded efforts of the youth.
He said: "This young and dedicated team of selfless volunteers is not only energetic, but also committed to ensure that they operate within the directives set by the Ministry of Health."
"It is my humble appeal that we all support such noble causes and may the Almighty Waheguru bless us all."
Ramgharia Sikh Temple, Pangani prides itself as one of the oldest temples in Africa.
Sikhism can be traced to Guru Nanak Dev Ji, the first Guru in the final century in the Punjab religion of the Indian subcontinent. The religious practices were formalised by Guru Gobind Singh Ji on 13 April 1699.