Editors say media in double danger due to Covid-19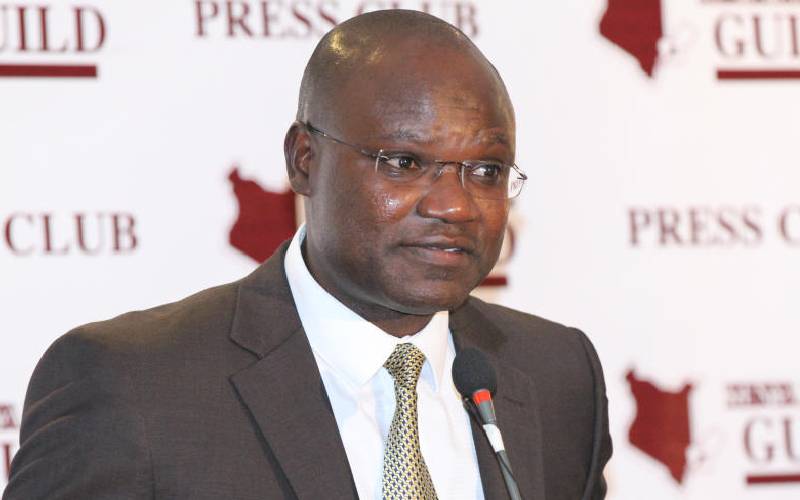 The Kenya Editors' Guild (KEG) has expressed concern over difficulties facing the Kenyan media since onset of the Covid-19 pandemic.
KEG Executive Council yesterday said journalists are facing double danger of infection as frontline workers while being victims of the economic travails facing media houses.
"Since the Covid-19 pandemic hit Kenya, media houses have been laying off journalists and support staff, and enforcing pay cuts. The pandemic exacerbated an already dire situation, with more than 300 journalists having lost their jobs in the past nine months," Churchill Otieno (pictured) , the KEG president said.
He said the guild understood that the measures were necessary during a period of drastic decline in revenue.
"Some media houses may have to shut down altogether if they do not find ways to survive until the pandemic ends," he said.
He however noted that some of the austerity measures were being implemented in ways that were unfair, and in the long run would harm the practice of journalism in Kenya.
Otieno said there were indications that some media houses may be taking advantage of Covid-19 to enforce layoffs and salary cuts.
"We are also distressed by the unprofessional methods employed by some, such as notifying employees by SMS, that they have been retrenched. Laying off workers is not a matter to be treated casually," he said.
He added that letting go of workers should involve a humane, caring and participatory process, together with supportive measures, such as counselling, psycho-social support and preparation for change.
"Cruel and inhumane approaches do no credit to the firms concerned and the managers responsible," he said.
KEG called on all Kenyans to reflect deeply on the state of media, which it said is currently at a crossroads. "The media is the only industry specifically guaranteed constitutional protection. The free flow of information is a right granted to citizens and would not be achieved in an environment where media operations are hindered by economic travails and unjust labour practices," Otieno added.
He said the media had played its role as a reliable partner in the fight against Covid-19 "by providing true and factual information and countering the deluge of fake news, propaganda and baseless conspiracy theories."
Various legal notices issued as part of the effort to contain Covid-19 recognise media as an essential service. KEG gave recommendations to ensure the Kenyan media survives Covid-19, which include convening of stakeholders to discuss the state of the media during and post the pandemic.