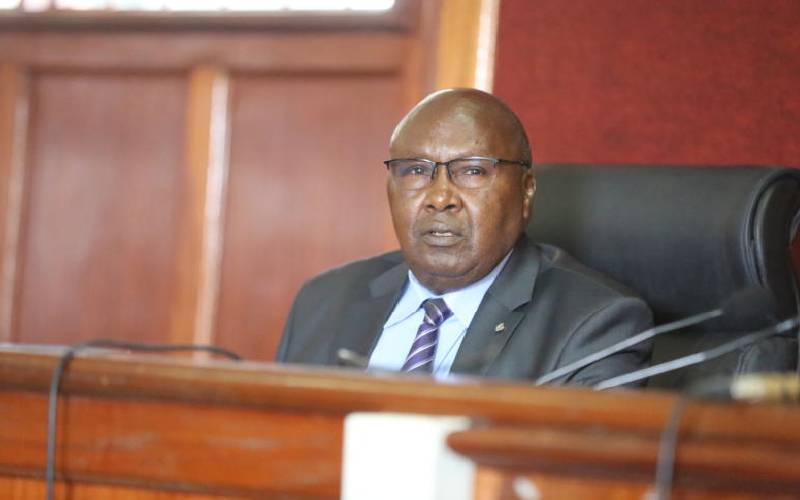 University students can now breathe a sigh of relief after the High Court settled a long-running accreditation battle between the Commission for University Education (CUE) and professional bodies.
For the past three years, many students have fallen victim of programmes accreditation tussle, leaving many in despair.
Periodically, professional bodies such as Engineers Board of Kenya and Council for Legal Education published universities whose programmes they have not accredited, technically warning potential employers against recruiting the graduates.
Read More
This led to street protests by students, court battles and hopelessness among students, with some learning institutions shutting down following unrests.
The most affected were engineering students at the Technical University of Kenya, Technical University of Mombasa, Masinde Muliro University of Science and Technology, Egerton University and Moi University.
The battle has been so intense, with the Supreme Court in 2018 directing Engineers Registration Board to pay Sh200,000 interest to all students who had graduated from Egerton, Moi and Masinde Muliro University of Science and Technology between 2004 and 2010.
The court also ordered the board to register all the students ending a long wait of broken hopes and delayed careers.
Law students have also been affected as the Council for Legal Education rejected graduates from some of the universities. Students have for many years been caught up in the supremacy wars between CUE and professional regulatory bodies.
Justice James Makau in his judgement dated June 11, 2020 seems to have settled the long-running battles, much to the excitement of students. He ruled that only CUE has the sole mandate to accredit universities.
The judge said where the Universities Act of 2016 has overlaps with other bodies that regulate higher education in the country, the law gives CUE powers to override the others.
This technically means that there should never be any doubt on accredited programmes as CUE approval is sufficient.
The judge noted that the amendment to the 2016 law stemmed from a need to eliminate opposition in accrediting higher education. He ruled that different roles played by the regulators ended up in conflicting positions.
Universities are on record saying that professional bodies created the mess by disapproving programmes already accredited by university senates and CUE.
Some said the regulatory bodies coerced universities to part with huge sums of money for accreditation to calm potential storm from students.
There are about 20 professional bodies that charge between Sh500,000 to Sh2 million for accreditation of programmes.
CUE also seeks Sh900,000 from each university towards quality audit charges and Sh320,000 for each academic programme. CUE charges another Sh1,000 per student towards quality assurance.
In one of the National Assembly Education Committee meetings, VCs said universities must engage all the bodies. It also emerged that universities were hesitant to invest in certain programmes for fear that the regulatory bodies may delay approvals.
And now with the ruling, universities are demanding a structured voluntary engagement with the professional bodies.
They insist that the professional bodies must not influence what is taught in class, but can advise CUE to incorporate aspects crucial to the professions.
"Professionals to only ensure who joins them and also regulate industry behaviour. They should not come to the classrooms because they regulate even those who graduate outside Kenya in institutions they have not accredited," said a professor at the University of Nairobi.
Vice chancellors have proposed that professional bodies reorganise their registration guidelines in a manner that will benefit universities that have voluntarily accepted to be accredited by them.
This means that students graduating from universities that are not accredited by the professional bodies will have stiffer procedures to belong to the profession.
However, universities say that this process must not be mandatory. The VC of Technical University of Kenya, Francis Aduol, proposed that the professional regulatory bodies may set up an examination board that would administer fundamental tests after graduation.
"This will play two critical roles: It will help the bodies control standards of those who get registered and also push universities to aspire to higher standards given examinations will also be administered by an external body," said Prof Aduol.
He said the examination body may guide that students who graduated from universities that are accredited by the professional bodies can be exempted from some examinations as those who come from unaccredited universities can do more.