How a tumour changed Rosemary Odinga's view of life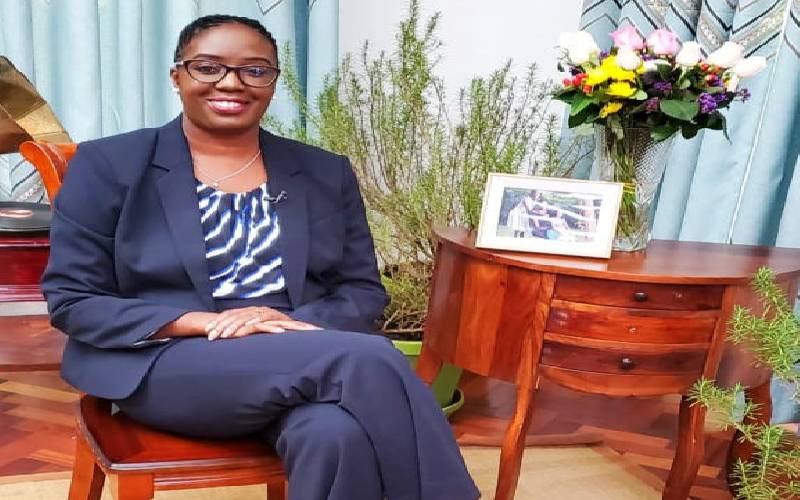 On January 20, 2017, Rosemary Odinga, Raila Odinga's eldest daughter, declared her entry into politics.
Her announcement promised to carry on the storied political legacy of a family career spanning generations.
But barely a month later, Rosemary suffered a sudden and debilitating illness that edged her out of the Kibra parliamentary race and saw her held up in South Africa for months on end as she underwent treatment.
Three years after the life-threatening illness that took her sight for two years and scuttled her nascent political career, Rosemary has revealed that her recovery has been successful and she is now doing much better.
Sight regained
During a service at St Peter's ACK in Bondo, Siaya County, in December last year, she announced that she had regained her sight and no longer needed to use a white cane.
Her father described her progress as a miracle.
During a Sunday night interview on K24's Punchline, Rosemary largely credited her recovery to her family and friends who supported her after the death of her brother, Fidel.
"I have to commend my family because we had lost my brother not too long before. Everybody was very supportive. My younger brother and sister took in the kids. My friends, cousins, uncles and aunts were also very supportive. Everyone came together. I am very grateful for that."
Rosemary also said her mother would often read her messages sent by other people, which was comforting as it made her realise she was not battling the illness alone.
Her two daughters, in particular, have been a propelling force in her life.
"I am still a mother; my children still need a mum. That has been one of my strengths, because I know they need me," Rosemary said.
And she has been taking her recovery one day at a time.
Rosemary described her daily activities as routine, saying she starts by preparing her children for school and readying herself for physiotherapy and the day ahead.
She revealed that she has worked to keep her family intact even as she recovers, which is why activities such as having breakfast with her daughters are important to her.
But even though the recovery has been encouraging, Rosemary noted that she still has a long way to go.
Until now, the effects of the illness continue to prevent her from engaging in certain activities she previously enjoyed, such as reading.
Miss reading
"I miss reading. I used to love reading books - fiction, biographies. I remember going back to Chinua Achebe's books. It's not the same when someone is reading to you. That control of being able to read books is why I am doing the exercise. I want to build my strength so I can sit down and just read my own books."
Rosemary described her illness as a moment of awakening, saying she was confronted with the realities of the inadequacies of Kenya's healthcare system as hospitals were incapable of treating her condition.
She recalled that apart from a nagging headache, all had been well right before she fell ill.
Her illness struck during a working holiday. At the time, she was attending a women's leadership training outside Nairobi where she had been accompanied by her daughters.
One night, while her daughters were out for dinner, she got a persistent headache. But it was not until the following morning that her condition deteriorated.
"In the morning there was a knock on the door. When I opened the door, I collapsed on the lady who was coming to get me ready. She walked me back to the room and laid me on the bed."
As Rosemary narrated to Anne Kiguta, the Punchline host, her youngest daughter quickly alerted staff at the front desk of the hotel where they were staying. An ambulance rushed her to a nearby clinic where a doctor advised her to drive to Nairobi to seek better treatment.
But she was too weak to drive and after a phone conversation between the doctor and her mother, Ida, a decision was reached to use an air ambulance to fly her to a hospital in Nairobi.
It was here that tests revealed the seriousness of her condition. She had an aneurysm and a tumour.
Rosemary was rushed into surgery and the aneurysm was clipped, but the doctors were unable to remove the tumour due to a lack of equipment.
Slipped into coma
Her condition worsened and she slipped into a coma. She was flown to South Africa where she received treatment and regained consciousness.
A few months later, having suffered partial loss of her eyesight, Rosemary returned to Kenya with her mother and started on the long journey to recovery.
She revealed that with everything going on at the moment, she had no thoughts of plunging back into politics.
"It's still early to talk about running for office. The country is going through a tough time with Covid-19. It's not the time for people to think about what seats I want, who I want to remove," Rosemary said.
"There's politics going on but this is not the time. We need to be more cognisant of the fact that many people don't have jobs and many people are struggling to earn a living."
She stressed that it is time for Kenyans to come together and support each other. She also praised her father and President Uhuru Kenyatta for reconciling.
Patriotism, she said, is important to her and it is a virtue that was instilled in her at a young age. She said she is happy supporting Kenya and she does not need a political seat to do so.