Kenyans now forming flea markets along roads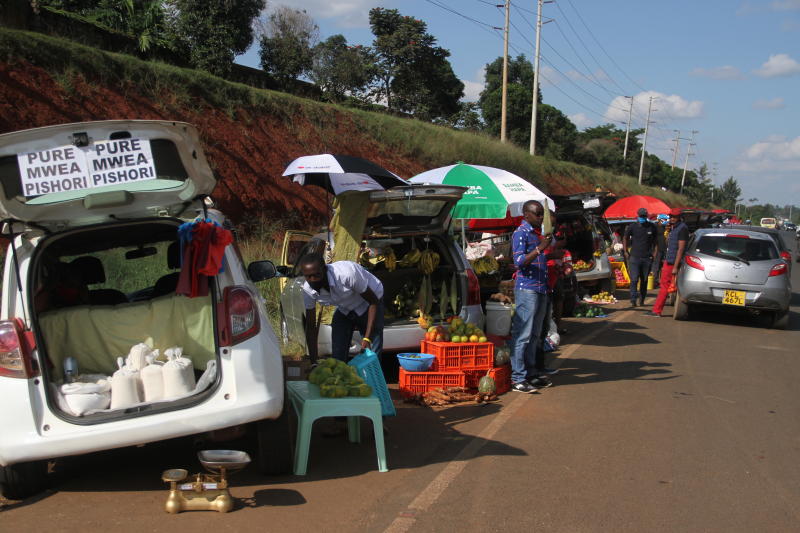 A number of Kenyans have now moved their businesses to the back of their cars along busy roads. As you speed along the Northern bypass at the Ridgeways/Windsor roundabout you will meet a number of cars packed.
Don't confuse this for a traffic jam, these are Kenyans from different walks of life hustling through their new normal to get an extra penny during these tough times.
According to the former Broadcasting and Telecommunications Principle Secretary Fatuma Hirsi in a tweet post, this is the new normal she observed as she was cruising past the Windsor roundabout.
"I decided to entertain myself (am a people person). I decided to buy from the sleekest cars. A BMW X3 was a good place to start, here I bought onions packed in a Kasuku, they were emptied into one of my rear carpets," reads her tweet.
Since the first reported Covid-19 case in the country many businesses have slowed down with several sectors like transport and hospitality hit most.
The new comers in the trade who are from different professional backgrounds, are now causing a run for the local trader's money.
According to Hirsi some of the traders she met along the way are advocates, IT specialists and economists turned business people.
"All three guys above have something in common. They are professionals who have accepted that these are extraordinary times. They decided to change with changing times. To lead the way in showing that extraordinary times call for extraordinary measures. They have faced times head on," says Hirsi.
Flea markets along roadsides are not the only new normal, in estates cars have been turned to markets as a measure to earn an extra coin.
According to a report by Deloitte an audit firm, Kenya's GDP stood at 5.4 per cent in 2019 and had been projected to grow at about 5.7 per cent in 2020.
In light of Covid-19 pandemic the economy is now expected to decline to 1.0 per cent as per the report majorly due to less spending from households to businesses, a 30 per cent decline in supply chain for key inputs in machinery and chemicals, decline in imports, less tourism activities in the country and a decline in government spending in different sectors.
In 2019 alone, Agricultural sector contributed 2.4 per cent to Kenya's GDP. The sector is now threatened by the locusts' invasion in the country and the limited demand in Kenya's exports of coffee and horticultural products in Northern America and Europe.
Currently exporters in Vegetables and fruits markets are shipping only 25 to 30 per cent of their normal capacity while the flower exports now record a drop of more than 50 per cent indicating a less than 10 per cent production.
On Saturday president Uhuru Kenyatta hinted on a possible relaxation of the current Covid-19 containment measures which include a nationwide dusk-to-dawn curfew and restrictions of movement in and out of Nairobi, Mombasa, Kilifi, Kwale and Mandera.
Until then, the flea markets forming along roads will be expected to continue.