Ruai, Mathare squatters seek to seize KBC land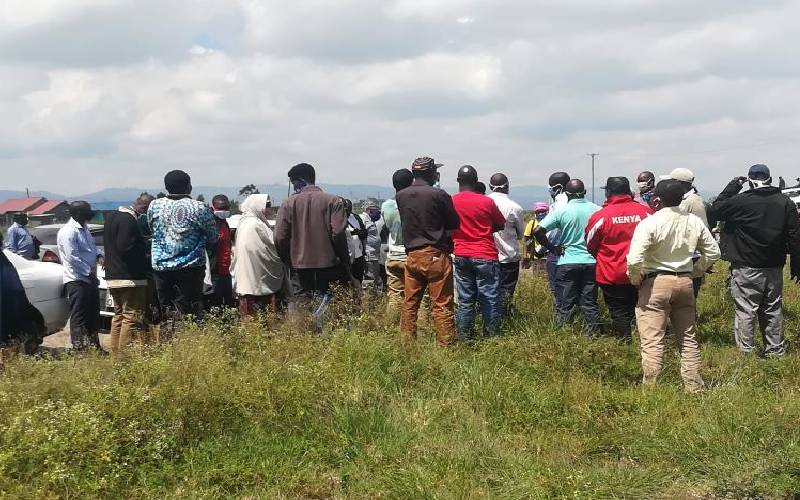 Dozens of people who claim to have been evicted from Ruai and Mathare 4A in Nairobi have now invaded a 1,200-acre property in Matungulu, Machakos County.
The land has been the subject of long-standing ownership row pitting the Kenya Broadcasting Corporation (KBC) against the Komarock Housing Society.
Yesterday, individuals alleging to be members of the Ruai and Mathare 4A Squatters Association drove to the prime property and said they would start constructing new homes on it.
Among them were families who said their houses had been brought down by the government in Ruai as it sought to reclaim more than 3,000 acres of land to pave way for the expansion of the Dandora Sewerage Plant.
According to Samuel Githinji, who identified himself as the vice chairman of the squatters association, high-ranking officials in the Ministry of Lands had led the evictees to the property located east of the KBC Police Station last week.
"We were brought here last week by senior officials from the Ministry of Lands in Nairobi, accompanied by two deputy county commissioners from Nairobi, who told us the government had decided to resettle us here," Mr Githinji told journalists.
"Our aim of coming here was to assess the suitability of the land, and our members have all agreed it is a good place to settle on."
He said members of the association were ready to begin rebuilding their homes as soon as the government carries out sub-divisions and allocates plots to the beneficiaries.
However, members of the Komarock Housing Society dismissed the group, and vowed to evict any person or group of people attempting to move into their property.
"We have been fighting for this land in the courts for a couple of years and we will not allow individuals or groups of people to hijack an ongoing legal process through forgery or fraud," said the society's chairman, Bernard Maembe.
He questioned how the government would engage in an outright breach of law by purporting to resettle people on land already embroiled in an ownership dispute.
Pending case
Last year, the High Court sitting in Machakos ordered KBC and Komarock Housing Society to move out of the land until the pending case is heard and determined.
Matungulu Sub-county Police Commander Kipkemoi Kirui, who visited the scene, said the police were not aware of any group of people being allowed to settle on the property.
"We have explained to them that the land in question has a pending case in court. We have also not received any official communication or directive from relevant government agencies requiring us to facilitate resettlement of any group of people," said Mr Kirui.
He said the police would only allow the group to occupy the land once they are served with a legal or reliable orders from government officials.