Babu is wasting his head in Parliament, Kenyans say after Chemistry online lesson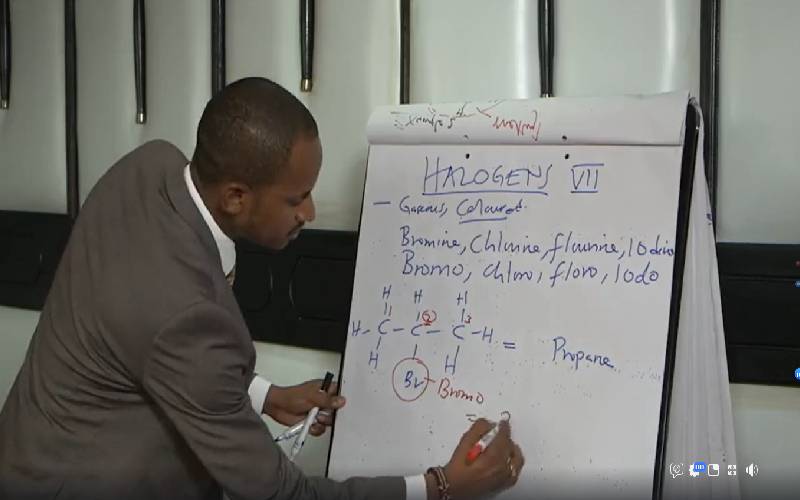 Kenyans online now want Embakasi East MP Babu Owino to be taken to school to teach and lecture students instead of wasting his 'head' in Parliament.
The more than 8000 viewers who tuned in to the MP's Facebook page to follow the online lesson live congratulated him for a job well done.
"This man is wasting his head in Parliament, he should go to schools and help students," said Meshack Odhaimbo.
Babu on Friday, impressed Kenyans online with his teaching skills after he successfully conducted a Chemistry class for this year's KCSE candidates.
As he had promised earlier, the MP went live on his Facebook page at 2pm, tackled organic Chemistry while explaining the formation of various compounds on board to the amusement of his followers.
"This is the easiest topic, but it requires keen attention to avert any confusion," said the MP.
In the 60-minute lesson, the ODM legislator tackled types homologous series in organic chemistry such as Alkanes, Alkenes and Alkynes, the periodic table before concluding with Isomers.
Babu taught the periodic table by giving a formula of naming the first 20 elements of the periodic table that left his viewers amazed by his mastery.
"Babu where were you when I was scoring D in Chemistry?" one of the viewers posted.
A section of his followers used the opportunity to slam Education PS Belio Kipsang for trying to stop such lessons.
The controversial ODM legislator has defended his online classes, saying they are meant to help KCSE students during the school disruption occasioned by the coronavirus pandemic.
He told his viewers not to be intimidated by PS Kipsang's remarks, saying he does not know what he is saying.
"The PS is basking in the glory of his ignorance by banning our lesson," he said as he concluded his lesson.
In the coming week, Babu has promised KCSE candidates that he will tackle various topics in math.