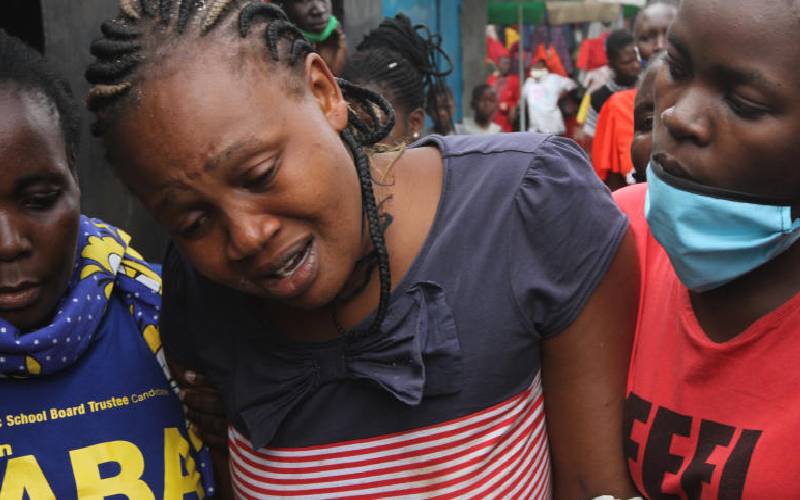 A Mathare resident was killed in a suspected case of police brutality in Mathare, Nairobi minutes into the curfew time.
The man was beaten and left for dead on Sunday night after the police began to patrol the densely populated area.
Vitalis Otieno, the victim, met his death at around 7.30pm near his home in Mathare's Mabatini area. The 39-year-old was a welder who was returning home from work.

"The police were roughing up residents at the time. Vitalis was almost home when they caught up with him," Kipkalia Ouma, a neighbour, said.
Read More
Angry residents crowded the scene, ignoring social distancing directive as they aired their frustrations on police brutality.
That commotion alerted Otieno's family after he did not return home the previous night.
"My daughter called me when her husband did not return home. I rushed over to her house in the morning and when we saw the commotion, we went over and found he was the dead man," said Evaline Naomi, the victim's mother-in law.
His wife Esther Achieng fainted after seeing the body and was rushed to a nearby clinic where she was treated for shock.
Otieno was the sole bread winner for his family of five.
"People saw him being beaten. After the police left, everyone was too scared to leave their homes to help him," said David Oluoch, a human rights activist in the area.
The residents marched to Muthaiga Police Station with Otieno's body to protest his killing but were dispersed with teargas. "Corona isn't killing us. It is the police killing us," they chanted.
Pangani OCPD Alice Kimeli could not be reached for comment.
The killing comes weeks after the death of a 13-year-old boy, Yassin Moyo, who was shot dead at the balcony of his house. "We are unhappy with the excess force used by the police. Just two weeks ago, they beat up a barber so brutally he has been bedridden since then," Max Collins, a social worker, said.