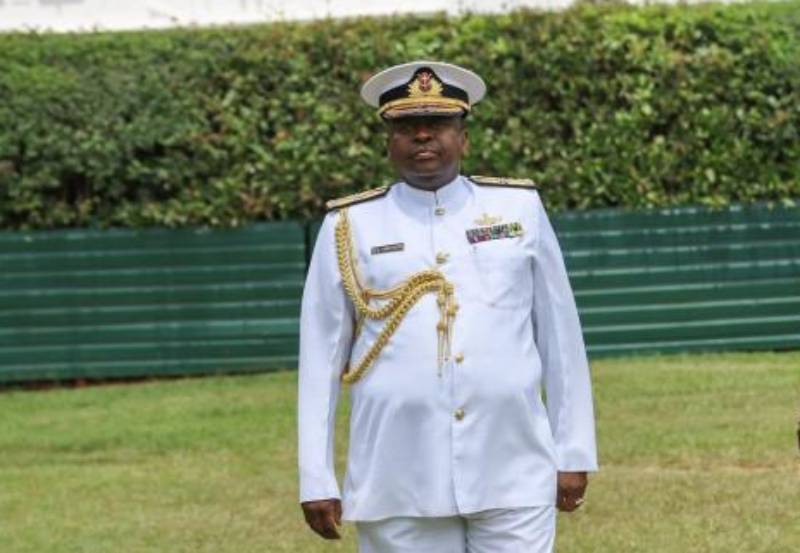 A team to oversee the transfer of power from outgoing Chief of Defence Forces (CDF) Samson Mwathethe (pictured) to the incoming Robert Kibochi meets tomorrow to chart the way forward.
Gen Mwathethe is supposed to visit all the three service headquarters - Kenya Army, Kenya Air Force and Kenya Navy - to bid them farewell ahead of the D-Day for his handover on Monday, May 11. He will also visit National Defence College and other key institutions within the military.
Officials said the plans are elaborate and will follow strict timelines. Mwathethe retired from service after serving for five years.
He will hand over to Gen Kibochi at a planned ceremony at the Defence Forces headquarters, Ulinzi House. He will be driven in a LandRover by senior officers who will leave him at the gate.
Read More
The planning team includes Vice Chief of Defence Forces Lt-Gen Levi Mghalu, Kenya Army Commander Lt-Gen Walter ole Raria and Kenya Navy Commander Maj-Gen Jimson Mutai. National Defence College Commander Lt-Gen Adan Mulata is also part of the transition planning team.
Mwathethe was named the CDF on April 17, 2015, replacing Julius Karangi from Kenya Air Force.
Yesterday, Gen Karangi clarified that he did not get an extension, saying he left upon expiry of his four-year term.
"I was appointed the CDF in July 2011 and left in May 2015. Those are four years. I never got an extension. I retired as per the supreme law of the country," he said.
The KDF Act says a CDF, his deputy and service commanders shall serve a single term of four years or retire upon attaining the mandatory retirement age.
But the Act also says the president may, on the recommendation of the National Defence Council, extend the CDF's term for a period not exceeding one year in times of war or emergencies like political uncertainty.
Under the Tonje rules, the position of the CDF is rotated among the three services - Kenya Army, Kenya Air Force and Kenya Navy. The rules, by Retired Chief of General Staff Gen Daudi Tonje, have steered appointments in KDF.
The new CDF will oversee the transition from the Kenyatta presidency in 2022. And according to the Somalia transition plan, KDF is supposed to withdraw its troops from the war-torn country by 2021, which the new military boss will also oversee.
A general is supposed to retire at 64, a Lieutenant-General at 61, a Maj-Gen at 59 and a Brigadier at 57 years.
However, the law puts a disclaimer on the General: "The maximum retirement age shall be amended from time to time through legislation on recommendation by the Defence Council."
Mwathethe has held various command positions as the VCDF, Navy commander, Deputy Navy commander and Navy logistics commander.