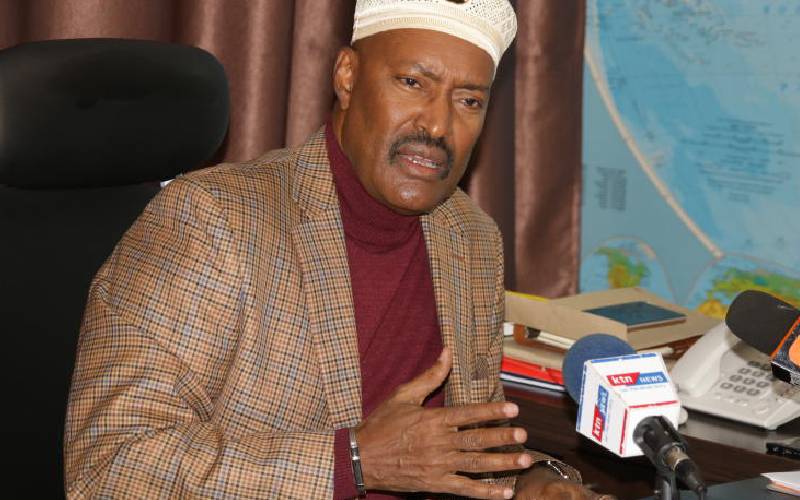 County workers have protested the decision by the National Treasury to bar the National Hospital Insurance Fund (NHIF) from offering them commercial insurance services.
In a letter to Treasury Cabinet Secretary Ukur Yatani, Kenya County Government Workers Union (KCGWU) through its General Secretary Roba Duba (pictured) said at least 103,000 county workers were set to lose their NHIF medical cover due to the move.
Duba said it was unacceptable for county workers to be ordered out of the affordable enhanced social insurance for expensive commercial services.
The protest follows Yatani's order last month that NHIF should only provide comprehensive medical cover to civil servants, police and prisons service.
The union said it is unfair to treat county workers as if they are not civil servants, explaining that both county and national government employees all receive their pay from the exchequer.
"From the foregoing, we wish to state that since county government employees draw their salaries from the exchequer like their counterparts in the national government, they are public officers/civil servants and fall within this exemption bracket," he said.
"It is not acceptable for public servants to be directed to ditch affordable enhanced social insurance cover from NHIF and go for an expensive commercial insurance service that in turn requires the public to be taxed more to pay for the premium," added the letter dated April 23, 2020.
The union now wants CS Yattani to review the directive and include county workers as part of civil servants so that they can continue enjoying enhanced medical cover by the state insurer.
Roba asked Treasury to urgently intervene over the matter since several county workers and their family members are exposed by the lack of medical cover.
"The purpose of this letter is to implore your office to advise NHIF that county governments and their related agencies are covered in the exemption advisory from your office to enable employees get covered in realisation of provision of universal health coverage as we fight the monumental pandemic of Covid-19 in earnest," added the letter.
He said most of the contract terms in counties are based on yearly renewal, proposed premium on previous year's cover performance and deliberations of the negotiation committee on the premium.
This, he said, makes it easy for county workers to access enhanced medical cover.
Roba accused the CS of deliberately excluding county workers in the list of government employees, who should continue benefiting from the cover.
"The National Treasury gazette notice failed to explicitly mention county governments like it did civil servants and the National Police Service. It is inconceivable for the National Treasury to fail to appreciate this fact," Duba said.
He said the lack of clarity on the county workers by the advisory has led to confusion 'and it has now come to our attention that county employees are not being covered by NHIF for lack of clarity in the National Treasury notice.'
He said the directive was in total contravention to the universal health coverage that aims at protecting people from the financial consequences of paying for health services out of their own pockets.
Duba disclosed that employees of several counties were on the verge of losing their cover as most of them fall due in the next few months while others have since fallen due for renewal.
The counties include Kisii, Kisumu, Kitui, Machakos, Mandera, Marsabit, Murang'a, Nakuru, Nyamira, Nyandarua, Tana River and Wajir.
Others are Baringo, Bungoma, Bomet, Isiolo, Lamu, Mombasa, Kajiado, Elgeyo Marakwet, Embu, Garissa, Kakamega, Kericho, Kiambu and Kirinyaga counties.