State to keep Sh18m seized from suspended NLC chief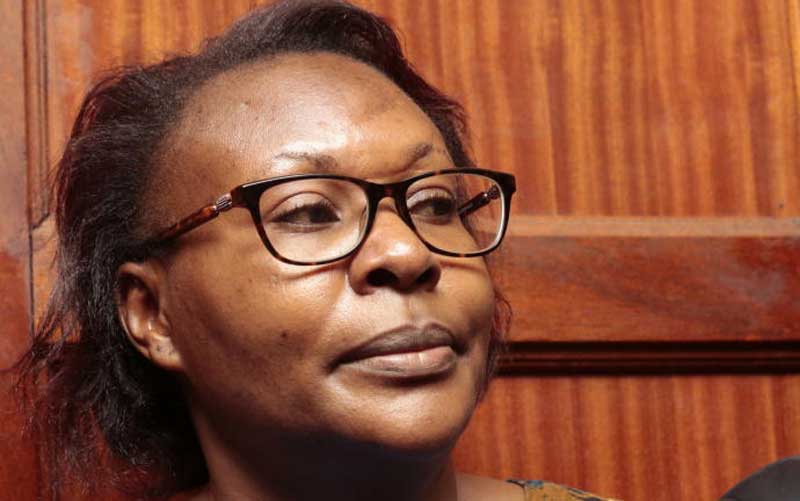 A former National Lands Commission (NLC) senior official has lost over Sh18 million that was recovered from her house.
Suspended Director of Valuation and Taxation Salome Munubi (pictured), who is facing graft charges, failed to explain the source of the money that had been retrieved from her house by the Ethics and Anti-Corruption Commission (EACC) sleuths during a search on May 4, 2017.
But the court declined a request by EACC to have her property seized by the State, with the judge saying the agency's lead investigator, Pius Maithya, had not proven that the wealth was proceeds of crime.
Justice John Onyiego ruled on Wednesday in a case pitting EACC, Ms Munubi, her husband Sostenah Ogero Taracha and alleged daughter, Priscila Nyambura alias Risper Bwari.
The cash – Sh1 million and USD 168,900 (approximately Sh18 million) – was found in one of the homes raided by the EACC as part of investigations into a compensation scheme involving the Standard Gauge Railway project.
"The over Sh18 million recovered from Ms Munubi and Mr Taracha's house amounts to unexplained assets hence I do hereby direct the same to be forfeited to the government," reads Justice Onyiego's judgement.
Munubi's husband and purported daughter were also directed to bear the cost of the suit.
Take a quick survey and help us improve our website!
Take a survey
The former NLC officer disowned the money found in her house, claiming it belonged to her husband, who is a businessman with a monthly earning of Sh2 million.
Munubi told the court her husband had borrowed the money from his step-daughter.
But during interrogation by EACC sleuths, Nyambura claimed it was part of Sh21 million given to her by her Sudanese step-father to purchase a house for herself and her siblings.
"Accordingly, I am satisfied that EACC has proved its case on a balance of probability against Taracha and Nyambura and judgement is thus entered against them jointly and severally with a determination and finding that the amount of money listed as recovered is unexplained assets," ruled the judge.
He noted that even though Munubi's husband and purported daughter were asked to justify acquisition of the said amount before May 4, 2017, the information given was conflicting.
He said further probe went beyond the said date and this was necessitated by the peculiar nature of the case in which parties not targeted originally came into the picture claiming proceeds reasonably suspected to be those of crime or generally money that could not be lawfully accoutered for.
According to Maithya, he and other officers of the commission were tasked to investigate allegations of irregular compensation of land following compulsory acquisition of land along the SGR line by the government through NLC.
"We were in receipt of credible information that Munubi was engaged in corrupt conduct and had amassed assets well beyond her known legitimate sources of income," Maithya told the court.
He also said they were investigating Munubi over claims of involvement in a case of fictitious acquisition and compensation of four land parcels in Embakasi, Nairobi County, despite falling within the Kenya Railways Reserve and therefore not subject to compulsory acquisition.
The case took a different turn when the investigators probed the millions found in the house. The evidence adduced saw Nyambura interrogated, only to emerge as the in-law of Munubi and the husband, who hails from Murang'a County.
Munubi was then detained alongside her chairman Muhammad Swazuri, chief executive officer Tom Chavangi, Finance Director Francis Mugo and his deputy Ben Cherutich.
Besides the homes, the detectives raided the commission's offices at ACK Bishops Annex and took away documents and electronics they said were crucial in the investigations.
More officers are under investigation after complaints that some of the payments made were riddled with corruption.
Parliament and the police are also investigating the claims.
On April 17, 2019, Munubi was arrested alongside several other NLC top officials and charged with conspiracy to commit economic crimes and money laundering, among other charges, according to a statement from the Director of Public Prosecutions office.
Swazuri and Munubi were later released on a cash bail of Sh3.5 million.
Evidence gathered by the prosecution showed how fake compensation claims, double payments, overpayments, inflation of land values and payment of people whose land was never on the corridor were used to loot taxpayers' money.
However, crucial data that was key in the investigations mysteriously disappeared after a break-in at the commission's offices. Following the burglary, the NLC stated that what got lost was a central processing unit in one of the computers within the Directorate of Valuation and Taxation.