KQ pilot Daudi Kibati pays the ultimate price a week after US rescue flight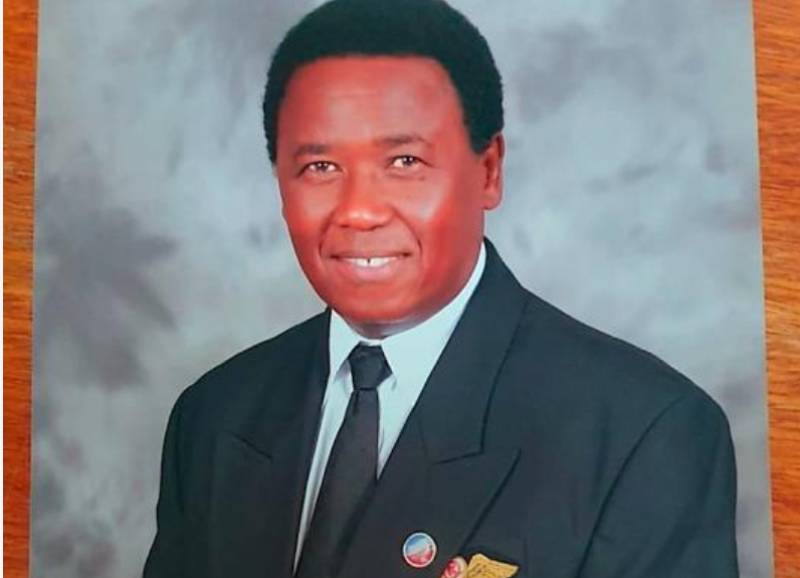 Captain Daudi Kimuyu Kibati (pictured) will be laid to rest today in a ceremony to be attended by close family members and under strict government supervision, just 10 days after piloting the last flight from coronavirus-struck New York to bring Kenyans home.
Saturday Standard has pieced together the last moments of Captain Kibati, who became Kenya's fourth novel coronavirus victim, through multiple interviews on his last flight that reunited dozens with their families.
The flight was one of salvation. One that sought to airlift Kenyans back home in a last-minute dash to escape the devastation caused by the virus in the US. Ultimately, though, it proved to be his last takeoff.
On Sunday, March 22, Captain Kibati, who is described by many as an easy-going, fun-loving pilot, left his home on Mbagathi Way in Nairobi for the Jomo Kenyatta International Airport (JKIA) where a Dreamliner Boeing 787 lay in wait. The mission was simple. Get to New York, have a two-day layover and come back to Nairobi.
Captain Kibati had had more difficult missions before. In his long career that spanned more than 20 years, he had flown into new territories and through bad weather. The New York flight was a simple in-and-out job for the ex-military pilot who spent his formative years flying jet fighters.
Grim statistics
The cockpit crew had three other people apart from him. The cabin crew for this roundtrip numbered 11.
"He was a gentleman," a friend not authorised to speak to the media told Saturday Standard.
In Kavisuni Village, where the pilot will be laid to rest, news of his death was met by unimaginable devastation by family, relatives and locals. Tributes poured in from leaders and residents from all corners of Kitui County.
"I am profoundly saddened by the demise of Captain Kibati. My deepest condolences to his wife Jane Kibati and the entire family. Losing a loved one is truly devastating," posted Kitui Woman Representative Irene Kasalu.
Kibati's wife, Jane, unsuccessfully contested for the Kitui Woman Representative seat in 2017. She has been nominated to the County Public Service Board by Governor Charity Ngilu.
Yesterday, the pilot's mourning family requested privacy, stating that he had lived a private life.
"Major (Rtd) Captain Daudi Kibati lived and enjoyed his life quietly and away from the media and publicity. The family requests that we respect his wish as we sincerely mourn his untimely departure," read the family's statement posted in a WhatsApp group.
The two-day layover in New York was uneventful, since it came at a time when life at the Big Apple had ground to a halt too, social distancing dimming the lights of the iconic city. As he left New York, the virus had already claimed more than 20,000 lives and infected tens of thousands more globally.
Kenya, in contrast, had recorded just one death and under 50 infections. Unknown to him, he would also form part of the grim statistics, becoming one of the other three people, including a six-year-old, who would fall victim to the disease.
Amid the uncertainty that hovered over the global airline industry and in the shadows of the local suspension of all passenger flights, the Captain's Dreamliner touched down in Nairobi on March 24 after which he and his entire crew proceeded to the mandatory self-quarantine at the Ole Sereni Hotel. For him, the mission had been accomplished.
Days later though, the former military man would get into another battle. This time, one that he would sadly not win.
Four days after getting into the country, the Captain developed a bad fever. He called the hotel's front office and was rushed to The Nairobi Hospital and was placed in an isolation unit after his test for coronavirus came back positive. He died on Wednesday night as he was being put on life support.
He was 62 years.
A statement issued by the airline on Thursday confirmed the pilot's death.
Decorated officer
"We regret to announce the death of our colleague Captain Daudi Kimuyu Kibati which occurred on April 1, 2020. Until his demise, he was a captain on the 787 fleet. On behalf of the board of directors, the management and the staff at Kenya Airways, we join the family of the late Captain Kibati in mourning their beloved one and pray that the Almighty God will strengthen them during this time of sorrow," the statement signed by Evelyne Munyoki, the company's Chief Human Resources officer, reads.
He will be laid to rest today in a ceremony that will be attended by close family members and friends.
But even in these difficult times, the village mourns and proudly remembers him.
"I have fond memories of the captain. He would fly a jet and on reaching Maliku Primary School, he would do several rounds and somersault. Some of us looked forward to the day we would fly while others aspired to be pilots like him," said one resident.
Those who served with him in the military describe him as a decorated Air Force officer and a courageous pilot.
Before the New York flight, the Captain was on another round trip from Nairobi to Rome. His death came on a day that Kenya announced news of the recovery of two other patients.
Kibati leaves behind a widow, Jane and two children, one of who is a medical doctor employed by the county government of Kitui and who was actively involved in screening self quarantined Chinese nationals working with Sino Hydro company.