No reunion yet for Brenda, family say they are still cautious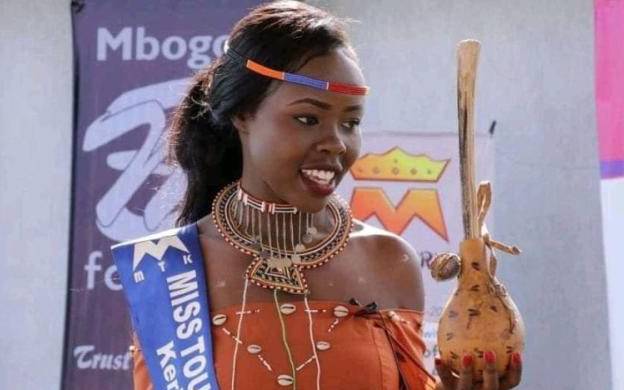 Brenda Cherotich (above), who the government announced on Wednesday had recovered from the deadly coronavirus, will not visit her family at Keongo village in Ainamoi Constituency just yet.
Her father Peter Rono said they are still cautious and that they fear travelling will put her at risk of contracting the disease again with the ever-increasing cases of infections.
Health CS Mutahi Kagwe yesterday called on Kenyans to minimise travels, especially to other regions, to stop the spread of the disease.
"We want to reunite with her and even throw a party to celebrate her healing. However, that will have to wait until it is completely safe for her to travel," said Rono, a father of five.
He added: "We miss her and we would like to see her and embrace her. However, we don't want to rush things. We want her to continue practising social distancing until the dark cloud of Covid-19 clears from the country. We don't want her to tempt fate twice."
Cherotich, a former Kericho model, was the first Kenyan to test positive for the disease.
Rono, a tea farmer, said they have been praying for her recovery since they received news she had been infected.
"For the time being, we wish her all the best. We are all going to meet as a family when there is no doubt about her health," said Rono.
He said he last saw his daughter on December 9, 2019. That was when Cherotich was leaving for Ohio, US, to attend her elder brother Patrick Ngetich's graduation.
He said they asked Cherotich, a Telecommunications and Information Engineering graduate from Multimedia University, to represent the family at the graduation since they did not have enough money for more family members to travel.
"When she flew back to Kenya on March 5, she went to stay with friends in Rongai, Kajiado County, where she'd been staying before she travelled," said Rono.
On March 13, Cherotich called home complaining she was unwell, said Rono. "She said she had a headache among other complications."
Rono said they later learnt she had contracted the disease and had been quarantined. Five days later, they got in touch with her and she confirmed that indeed, she was being attended to at Mbagathi Hospital.
"After the confirmation, we went into prayers asking God to heal her. We also informed our pastor and members of African Gospel Church in Keongo, who joined us in prayers. It is those prayers that have healed our daughter and we are grateful to God and all those who supported us," said Rono.
He said confirmation that Cherotich had contracted the disease came as a shock to his family. He said they are also happy that she did not travel to the village on arrival from the US.
"It was God's plan for her not to come home when she landed back in Kenya. Probably she could have infected so many people, including fellow passengers, family members and even villagers as there would be no way of knowing she was sick," said Rono.
He said he is worried about his son Ngetich, who is grounded in the US, where cases of new infections are on the rise.
"When he heard his sister had been diagnosed with the disease, he took tests which turned out negative. What is worrying us now is the lockdown in some parts of the US and the spread of the disease in that country," said Rono.
Rono urged Kenyans to adhere to measures the government has issued to stop the spread of the disease as Kagwe announced 29 more cases yesterday.