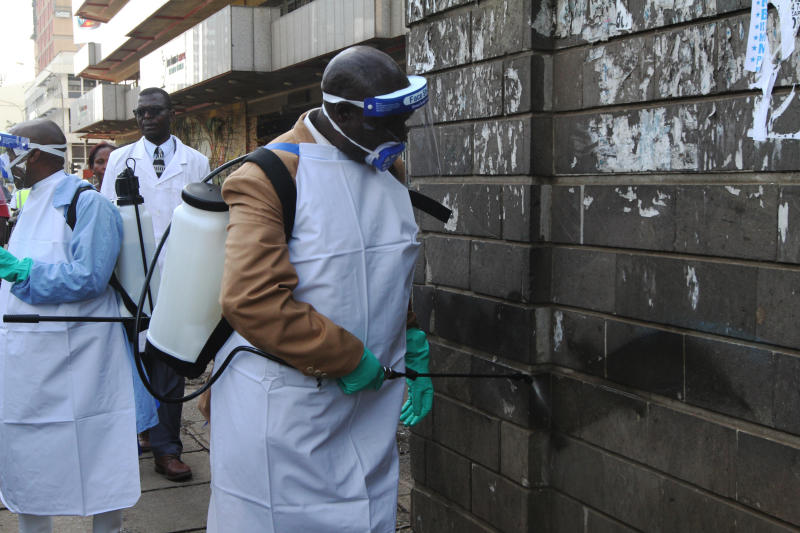 Fumigation of the city's Central Business District entered its second day in the ongoing fight against coronavirus (Covid-19).
The exercise is being done by the Nairobi County Government in collaboration with the Ministry of Health.
Some 215 health workers have been deployed across the county for the exercise and 200 more who were on leave recalled to boost the existing manpower.
Yesterday, the officers sprayed Nyamakima cereal market, Kirinyaga Road, Koja bus stop and Tom Mboya Street. They targeted contact areas, equipment and stands at bus stops and PSV vehicles.
Nairobi County Health Deputy Director Wilson Langat said the exercise would continue until spread of the disease is contained in the country.
Read More
Transport CEC Mohammed Dagane said the county will begin distributing hand sanitisers to matatu operators today. "We are purchasing them so by the end of tomorrow (today) we will distribute them," he said.
Missing from shelves
Tedd Peter, an official with Citi Hoppa, says the company has more than 150 vehicles and providing sanitisers has been a challenge for them due to hike in prices. Despite the government promise to provide sanitisers, the transport company is yet to receive any.
Some matatus plying the city routes are using sanitisers made from a mixture of dettol, methylated spirit and water.
A spot check at most supermarkets in the CBD revealed that sanitisers are still missing from the shelves.