Ex-soldier wants top KDF officials punished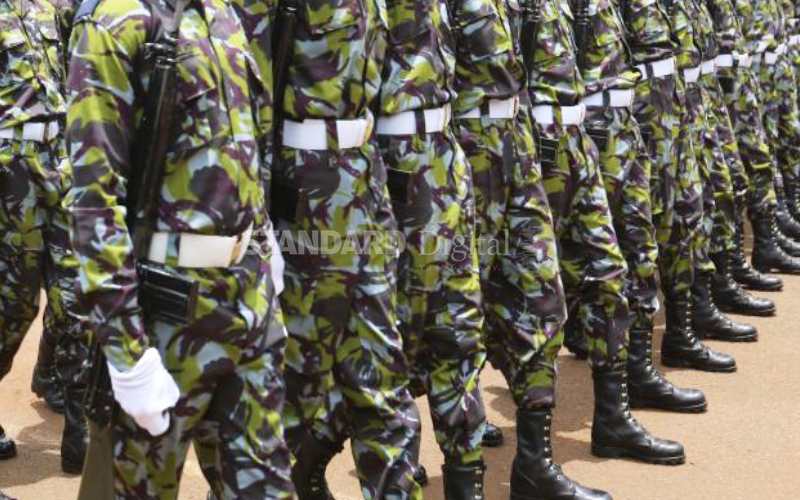 A former Kenya Air Force Commander wants military chiefs cited for contempt for refusing to restore his rank, honour and decorations.
Major General Peter Kariuki, in his application, claims the military honours are so dear to him and wants Chief of Defence Forces Samson Mwathethe and Air Force Commander Francis Ogolla compelled to accord him the decorations as ordered by the Court of Appeal.
Kariuki also wants Treasury CS Ukur Yatani compelled to pay him Sh71 million awarded by the Appellate Court for unlawful dismissal and illegal four-year detention after the 1982 attempted coup.
"Restoration of my rank, honours and decorations is of great emotional, reputational and sentimental value to me and are easy to comply with since they have no monetary implication. It will cost them nothing to make me feel the joy of being a soldier again," swore Kariuki.
According to Kariuki, it has been a painful 38-year wait for the honours since he was unceremoniously fired from the military for an offence he never committed.
Having reached the retirement age, all he wants is for the military chiefs to issue him with a new uniform, organise a parade to restore his rank, honour and decorations; and have him escorted out of Eastleigh Airbase in accordance with military practice for a retired general.
Kariuki was the Kenya Air Force Commander in 1982 when some of his officers attempted to overthrow the government.
In January 1983, he was sentenced to four years detention for failing to prevent and suppress the mutiny. He was also dismissed from service and stripped of his rank, benefits, medals and other decorations.
He filed a petition before the High Court claiming violation of his rights and in October 2011, Justice Daniel Musinga awarded him Sh7 million as damages for wrongful dismissal.
He appealed against the decision claiming Sh7 million was inadequate given the rank he had attained at the time he was dismissed.
Appellate Judges Patrick Kiage, Kathurima M'Inoti and Jamila Mohammed in 2014 allowed his appeal and ordered that his rank, benefits, honours and decorations as a Commander of the Kenya Air Force be restored.
The judges quashed Kariuki's conviction and sentence by the court martial in 1983 and enhanced his award from Sh7 million to Sh38 million with interest, which has now accumulated to Sh71,413,306 as damages for violating his constitutional rights. The figure includes salary arrears and allowances.
His lawyer Paul Muite argued that despite many reminders since 2014 when the case was determined, the government has refused to settle the amount.
"Kariuki has been waiting for justice since 1982. What he wants is very simple; restoration of his dignity. He just wants to be given a set of uniform, ceremonial sword, medals and to be escorted out of the Kenya Air Force headquarters in a ceremonial Land-Rover in accordance with military tradition," said Muite.