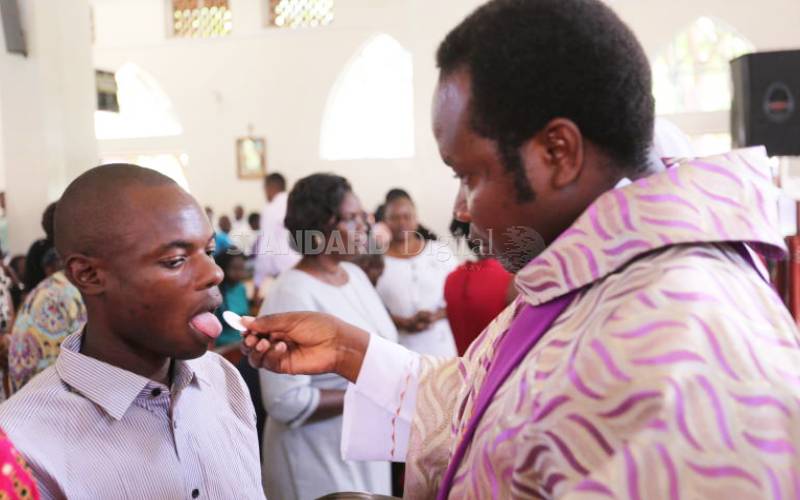 Churches yesterday revised rituals deemed likely to spread coronavirus to protect worshippers during service.
Lavington Vineyard Church and Karen Vineyard Church suspended services for the next two weeks, and advised congregants to live-stream the services from the comfort of their homes.
At the Holy Family Basilica and All Saints Cathedral in Nairobi, the traditional shaking of hands as a sign of peace was skipped. Instead, the congregants were requested to wave at each other to avoid contact.
"We will all strictly stick to ABC: Avoid Body Contact. No handshakes, no hugs. I have even seen married couples avoid greeting each other today," said All Saints Cathedral Provost Sammy Wainaina.
The worshippers also received the Eucharist on the hand instead of having it put in their mouths by priests.
To counter the risk of contracting coronavirus, the Holy Family Basilica set up several hand sanitising points. Ushers directed the worshippers to disinfect their hands before entering the church.
According to a statement from Bishop Philip Anyolo, who chairs the Kenya Conference of Catholic Bishops, the Catholic Church in Kenya has taken several measures to protect its congregants.
For starters, the holy water has been temporarily removed.
"For the time being, we may be constrained to temporarily remove the holy water from the water fonts. However, Christians may carry holy water for use in their homes and even for personal use as they pray," read the statement.
The church also directed that congregants only receive the Eucharist on the hand, particularly encouraging them to use the left hand.
Shaking hands has also been banned inside the church, instead congregants have been advised to wave at each other. Additionally those with coronavirus symptoms were advised to voluntarily abstain from going to church.
At the Shrine of Mary Help of Christians, Upper Hill, celebration of Mass beyond the Church's walls was suspended for 30 days.
At the Seventh Day Adventist Church, Lavington, members were asked livestream Sunday service from their homes. The church also suspended lunch until further notice. Also suspended were Sunday club meetings and choir practices.
The Redeemed Christian Church of God has also issued guidelines to all its parishes in Kenya on how to prevent the spread of coronavirus. Handshakes and hugs have been suspended.
Coughing or sneezing inside the church is also discouraged.
The clergy have been advised to exercise 'the highest levels of hygiene' especially when handling church wine and bread.
"Specifically, we ask them to wash their hands thoroughly with soap and water before any liturgical celebration, especially before handling the bread and wine," read the statement.
The church also held a special session after normal Sunday service to teach congregants on how to prevent the spread of coronavirus.
In Manyatta's Kona Legio estate, the Legio Maria welcomed guests but refrained from shaking hands.
However, inside the packed church, barefoot believers who were seated on the ground had holy communion directly placed in their mouths as is the norm.
At St. Joseph's Milimani Catholic Church in Milimani, worshipers were warned against sharing alarmist messages on the virus. [Additional reporting by Anne Atieno]