Police tell nine terrorism suspects to defend themselves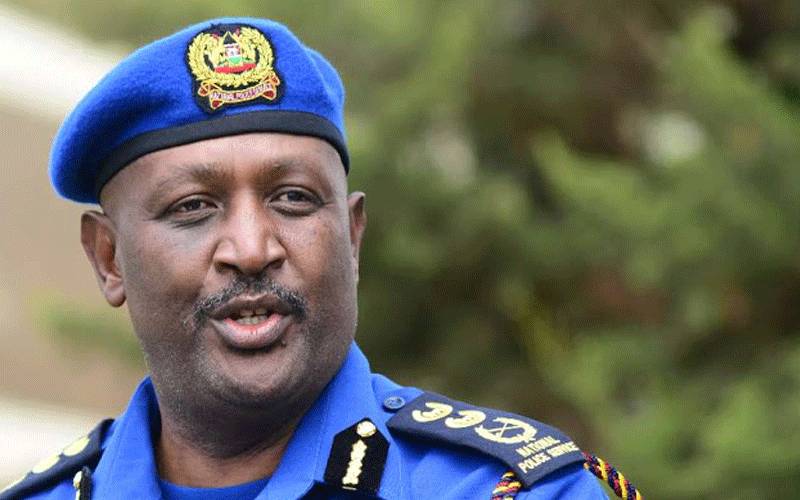 Inspector General of police Hilary Mutyambai (pictured) has given nine people and three companies based in Eastleigh, Nairobi up to Saturday to defend themselves why they cannot be declared Specified Entities.
Mutyambai on Tuesday placed a notice in the dailies indicating his intention to declare the nine persons and the companies Specified Entity.
A 'special entity' is a person or organisation suspected to have committed, attempted to, or prepared to commit a terrorist act.
Under Section 3 of the Prevention of Terrorism Act (POTA), the IG is expected to notify the entities of his intention to recommend to the Interior Cabinet Secretary, that an order has been made declaring each of the entities named therein a Specified Entity.
They are expected to demonstrate within seven days why they should not be declared as specified entities.
The law requires that before the IG makes such recommendations, he must afford the affected entities reasonable opportunity why they should not be considered as terrorist sympathisers.
According to the notice, the suspects are expected to deliver their responses to the office of the IG at Jogoo House latest 5pm on March 15.
The suspects notified are Hamal Adan Ali, Waled Ahmed Zein, Sheikh Guyo Gorsa Boru, Mohammed Abdi Ali aka Abu Fidaa, Nuseiba Mohammed Haji, Abdimajit Adan Hassan, Mohammed Ali Abdi, Muktar Ibrahim Ali, and Mire Abdullahi Elmi.
The three organisations that have been notified are an Mpesa agent based in Eastleigh Alasland Agency, Company registration CR/2012/75887 and Climbing Star, another Mpesa agent selling mobile phones and internet services based at Plot 38 General Waruinge Road in Eastleigh.
Also notified is Climbing Asho Shop, said to be linked Climbingstar.

Such an order is given when the IG has reasonable grounds to believe that an entity has committed, attempted or prepared to commit a terrorist act. It can also be issued when an entity is believed to have participated in or facilitated the commission of a terrorist act.
They are also suspected of acting on behalf of, or at the direction of a terrorist organisation. They may however apply to the IG requesting for the revocation of the order.
However, if the suspects are aggrieved by the decision of the IG, they may apply to the High Court for a review of that decision within a period of 60 days from the date of the receipt of the decision.
Police have in the past months heightened terror-related operations in the city in efforts to disrupt plans to attack Kenya.
Multi-agency teams have also been working harder to contain threats noticed in the city and other urban areas.