Uhuru dispatches Matiang'i to meet Somalia president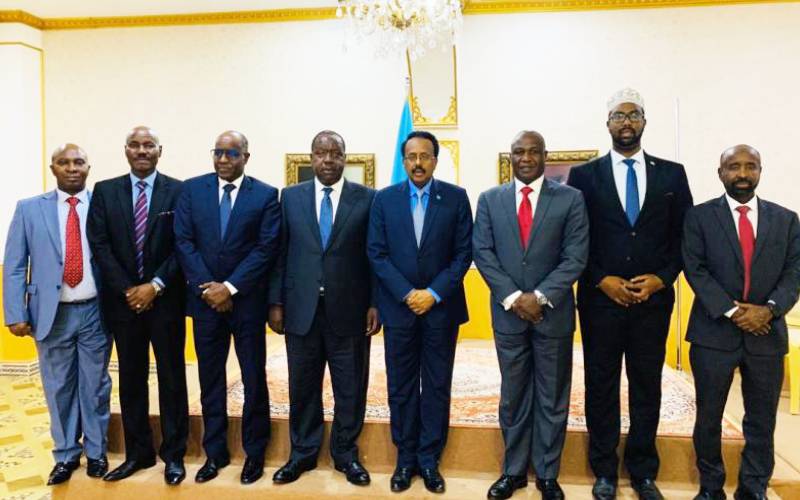 President Uhuru Kenyatta dispatched a delegation to meet his Somalia counterpart Mohamed Farmajo as part of efforts to quell tensions between the two neighbours over a border intrusion.
The team led by Interior Cabinet Secretary Fred Matiang'i left for Mogadishu in the wake of clashes between the Somalia National Army and Jubbaland forces in Bulahawa, which is near the border town of Mandera.
The meeting took almost two hours.
"Following the recent wave of security challenges along the Kenya-Somalia border, some senior State officers and I have been dispatched by H E President Kenyatta to meet his counterpart, H E Farmajo, with a view to ironing out the persistent cross-border issues," said Matiang'i.
Both countries have in the past been united in fighting Al Shabaab, but the latest developments have forced the US Government to intervene.
This prompted Uhuru and Farmajo to speak on the phone last Thursday and announce that committees would be formed to discuss border security.
Sources said the Ethiopia Government also put pressure on Farmajo and asked him to speak with Uhuru in an attempt to reduce tension, which was only benefiting militant groups especially in Gedo region.
The hostilities started last year when Somalia refused to withdraw a maritime boundary case at the International Court of Justice (ICJ).
The ICJ will hear and decide the case this June.
Somalia is also said to be angered by Kenya's move to host fugitive Jubbaland security minister Abdirashid Hassan Abdinur.
The fighting last Monday prompted Uhuru to tell off Somalia, urging the nation to "cease and desist from unwarranted provocations at the main border".
This after the president had chaired a special session of the National Security Council (NSC) to "discuss the unwarranted attack on Kenya's territorial integrity and sovereignty by Somalia".
The NSC also discussed a press release issued by Somalia on February 5, and accusations made by Somalia ambassador Abukar Dahir Osman in New York on February 27.
"We therefore urge the Federal Government of Somalia to cease and desist from the unwarranted provocations and focus on managing its internal affairs for the welfare of her people; defeating terrorism and advancing the cause of peace, security and stability in the region," said State House spokesperson Kanze Dena.
NSC is the country's highest security organ, and the session was the first one this year.
The council said it had "noted with concern the violations of Kenya's territorial integrity and sovereignty by the Somalia National Army where the foreign soldiers, in flagrant breach and total disregard of international laws and conventions, engaged in aggressive and belligerent activities by harassing and destroying properties of Kenyan citizens living in the border town of Mandera".
"This action amounts to an unwarranted attack by foreign soldiers with the intention of provoking Kenya. In keeping with our long-standing and distinguished tradition in peace-keeping and peace-building in the region and beyond, and in particular in Somalia, Kenya acted with total restraint."