Golden memories as elderly share love experiences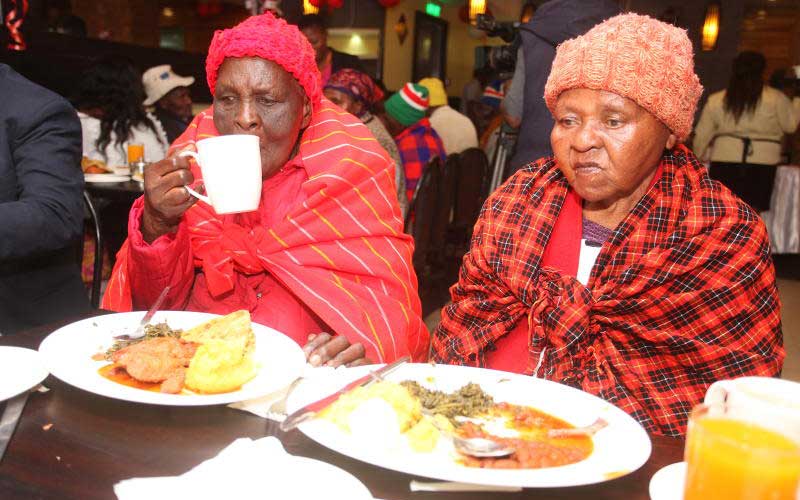 On the day feisty lovers pulled all stops to impress each other, old staggers in the game gathered at a Nairobi cafe to mourn the dying essence of true love.
While being treated to a brunch date at Café Deli, elders living at Thogoto home of the aged bemoaned the days gone by, when love was an everyday thing.
At 82, the sparkle of love is still resplendent in Jane Wanjiru's eyes. She says at her prime, all they had to do was to respect and love their men. And this was a constant, whether they came back home with food or with bare hands.
"There was nothing like chocolates or flowers. And we still loved them. Our mission was to love our husbands everyday'' Wanjiru says. George Kinuthia, 88, says he only hears about Valentines Day on radio but has never quite experienced it.
He reminisces how he used to love his late wife. He pauses for a minute and tells how he used to buy her new fashionable clothes; including the Maasai shuka and scarfs so that she could look good and different from other women.
This was his way of expressing love to his woman. He also remembers taking his woman to visit friends, and celebrating her by hosting friends to eat goat meat and to show off her exemplary culinary skills.
Looked nice
"She adored the clothes I used to buy her. My duty was to make sure she looked nice. Am happy am not from this generation as I cannot imagine kissing and hugging someone in public. I also wonder why nowadays women cannot stay with their husbands,'' says Kinuthia.
Edith Muraguri is a mother of four but isn't sure how old she is. Although she and her peers never celebrated Valentines Day, she recalls her husband adored her. She harbours memories of him cooking for her and helping her with house chores. For her, this was the ultimate expression of love. Other women would envy her because her husband was hardworking in the farm and because he ensured all her needs were catered for such that she lacked nothing.
What she adores about her husband is that he never allowed her to go to the farm like other women. In turn, she ensured she cooked well for him and prayed for him.
Elizabeth Wanjiru, a cook at Thogoto Home of the Aged, says in the 80's, people loved each other naturally. "There was no money to buy each other expensive gifts but my husband would often take me to a nice hotel to eat good food.
Love back then was truly sacred, unlike now where people publicly display their affection. Valentines Day used to be celebrated by a husband and wife not just any man and woman,'' says the 50-year-old woman.
Samuel Ndirangu's love experience was different. He brags he was strong and good looking, and this attracted women. He was adventurous and would access beautiful women because of his singing prowess. He was a singer in a band and toured numerous countries, during which he "sampled" women. For this reason, he never saw the need to settle down and get married.
At 83 and with no child, abandoned and rejected by family, he regrets he never gave love a chance and failed to settle during his prime years.
Café Deli MD Obado Obado, says he chose to host the elderly because they are the most forgotten lot in society, saying he gets satisfied when he gets opportunities to share love and make a difference in the society.
At the same time, Valentine's Day came with rewards for inmates serving various sentences on petty offences at the Eldoret GK Prisons after it was announced they will be set free. Speaking to journalists at the GK prisons yesterday, Eldoret High Court Resident Judge Hellen Omondi said petty offenders will have their cases reviewed for clearance. Some 160 inmates are set to benefit from the process. "Though we have their file cases, the process will delay because we need probation officers ready with their reports, which will take two weeks to be released," she said.