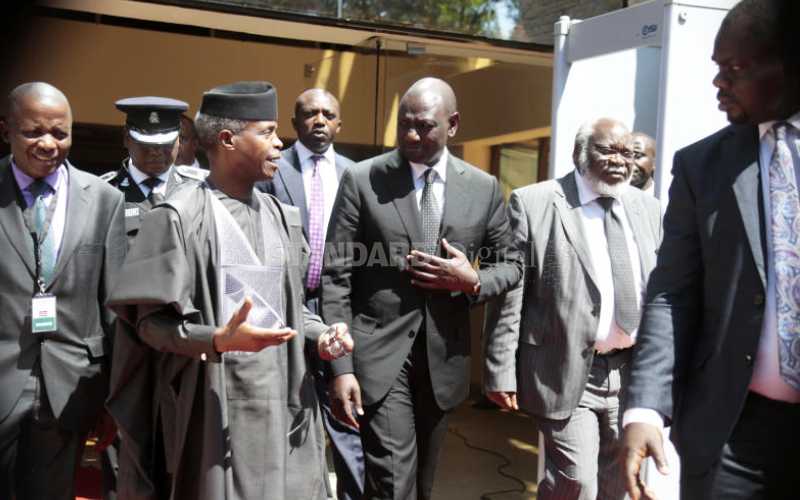 It was a send-off fit for an icon. Nairobi stood at attention. Thousands of people started trooping into Nyayo National Stadium from as early as 4am for the State funeral service of the country's second president, Daniel arap Moi, who died last week Tuesday. Memories flooded back as red Kanu caps with former President Moi's pictures dotted the stadium. Posters with his image also resurfaced, as hawkers selling various branded items recorded roaring business. Choirs sang patriotic songs once forgotten, as the city waited patiently. Neither the early morning chill nor the hot sun that subsequently replaced it were enough to deter the multitudes. And then, as more than 10 presidents and former heads of government in Africa stood, the gun carriage bearing Moi's body slowly covered 400 metres, several steps at a time, as the military band played solemn songs. Just as in life, with each of the steps taken by the soldiers in ceremonial military gear, the former president took his last lap of honour; it was like an elongated parade, but in slow motion.
Dignitaries present
And when the lap was over, the soldiers gave their former Commander-in-Chief a salute and the ceremony began. All flags were at half mast, save for President Uhuru Kenyatta's presidential standard, which signifies the Head of State is present at a function. The casket bearing the former president was draped in the national flag and was brought in atop a gun carriage, flanked by military outriders and preceded by a parade of all detachments of the Kenya Defence Forces. It was ultimately placed on a platform inside the gigantic white tent where family members and religious leaders were seated. President Kenyatta had arrived at Nyayo National Stadium at 10am to await the body, and when the parade was over, he climbed down from the pavilion and went to the special tent where the former president's family and clergy sat. The casket was momentarily opened to give visiting dignitaries one last opportunity to view the body and pay their last respects, which they did, one at a time. Presidents Paul Kagame(Rwanda), Yoweri Museveni (Uganda), Salva Kiir (South Sudan), Ismaïl Omar Guelleh (Djibouti), Sahle-Work Zewde (Ethiopia) and Brahim Ghali (Sahrawi Arab Democratic Republic) viewed the body before the service started. Other leaders who viewed the body included former presidents Benjamin Mkapa and Jakaya Kikwete of Tanzania, Nigerian Vice President Yemi Osinbajo, as well as representatives from the United Kingdom, Ghana, Zimbabwe, Democratic Republic of Congo and Namibia. Former President Mwai Kibaki sent Laikipia Governor Nderitu Mureithi to represent him, and informed mourners about his decades working with Moi. This was the most solemn ceremony at Nyayo Stadium since it was constructed in 1984 and transformed from Nairobi West Stadium into a national theatre of sports. It has since hosted national celebrations, as well as local and international soccer matches and athletics championships. There were light moments when Baringo Senator Gideon Moi, who read the eulogy on behalf of the family, recounted how he once conquered his father through ingenuity. "One time, my father bought a new car. I could not resist the temptation to take it for a spin, but my driving skills were not as good a my enthusiasm. The car crashed. I dreaded breaking the news to my father and so decided to go to him carrying a Bible. He had received the news and he burst into laughter when he saw me. That was the end of the matter."
Loving man
Gideon described his father as a loving man who was forgiving and still found time for his children despite his heavy work schedule. While eulogising the former president, Uhuru who had broken with tradition and was wearing a red carnation on his lapel like Moi's family members, said he chose to celebrate a great giant of history instead of mourning a father and a mentor. He celebrated the achievements of an orphan who lost his father aged four and went barefoot to knock on the doors of missionaries in search of an education, and later became a great champion of education, the liberation struggle and emancipation of women. "The story must be told of a rugged and barefooted orphan boy knocking on the door of white missionaries in search of help and enlightenment, at a time when illiteracy had a firm grip on our people and education was considered foreign and unwelcome," Uhuru said. The Head of State described the former president as an astute politician who had the ability to predict future political trends, and had lived a full life, serving his motherland as an MP, Cabinet minister, vice president, and finally as president of the Republic of Kenya for 24 years, four months and eight days. The former president, Uhuru said, pursued the Nyayo philosophy of peace, love and unity, which transcended Kenya's borders as he sought to bring stability in the region, and was a key figure in the revival of the East African Community. Raymond Moi, who is the MP for Rongai, told mourners that his father ventured into elective office after he met a freedom fighter, Brigadier Daniel Njuguna, who inspired him to join politics. He was ultimately elected as the Rift Valley representative in the Legislative Council (Legco). The previous occupant of the seat, John ole Tameno, had resigned and Moi had to fight it out with eight other contestants before he emerged the winner. His struggle against colonialism won him accolades from Nigeria's Osinbajo, who described Moi as a great African patriot who was at the forefront, fighting for freedom in the continent. "He was a great Africa son who pioneered in the work of regional co-operation, resuscitating the East Africa Community, Comesa, Igad and free trade. His work will define the future of trade in Africa," he said. Former presidents Mkapa and Kikwete said they had learnt a lot from the former president. "I was president of Tanzania for 10 years. For seven years, I served at the same time with President Moi. He was my mentor and teacher," Mr Kikwete said. Mr Mkapa delivered President John Magufuli's message of condolences. "The unity that President Moi pursued transcended boundaries – it was not only unity between brothers and sisters within our borders, but also unity of the brothers and Sisters that form our East African Community and the greater continent of Africa," he said.
Remembering his sacrifice
Sahrawi President Ghali said his country was forever indebted to Moi's sacrifice, adding that he "was a great leader who fought for the liberation of our country". South Sudan's Kiir said the departed leader was instrumental in the birth of his country. "In 2005, during the Comprehensive Peace Agreement, I recall Moi telling Sudan to leave the people of Southern Sudan to have their own country," he said. Uganda's Museveni said Moi would be immortalised by the great sacrifices he made for Kenya and the East African region, which would never be forgotten. Mr Museveni caused laughter when he said, "Most of you cannot remember what Moi did in Kadu days because you are children. He properly diagnosed what ailed our politics and prescribed the right medicine. That is why Kenya did not suffer from civil war like her neighbours." One time, Museveni added, Uganda had annoyed Moi who ordered the border closed, but when the two leaders later met, the issues were resolved and normalcy returned. "He was very well connected emotionally. He once requested that I pick him in Alua so that he could attend church service in a tiny Africa Inland Church. That is how much he cared about religion and Christians," he said. When Rev Cyrus Yego, who had known the former president for 36 years, was given a chance to deliver his sermon, he told the puzzled mourners that his departed friend was going to preach. "Many are wondering how a dead man will preach. I am going to let him do that through his quotes of Bible verses, which he had memorised and used to quote whenever he preached to us," Rev Yego said. The retired head of AIC painted the picture of a prayerful man who had studied his Bible, and applied it in life. He was well prepared for the after-life, he said. "One day in 1997, teachers wanted to go on strike and I pleaded with the former president to promise that he would give them money. He told me that he could not lie. The following day he told the teachers he had no money. Although he loved children, he could not lie as he was a Christian," Yego said. He added that Moi had no fear of death as he believed man was just a pilgrim on earth, quoting 1 Chronicles 29:15. In his eulogy, Raymond noted that Moi's love for teachers motivated him to table a Bill in Parliament that led to a law that paved the way for the creation of the Kenya National Union of Teachers (Knut).