Tribute: Former envoys hail Nyayo as a peace broker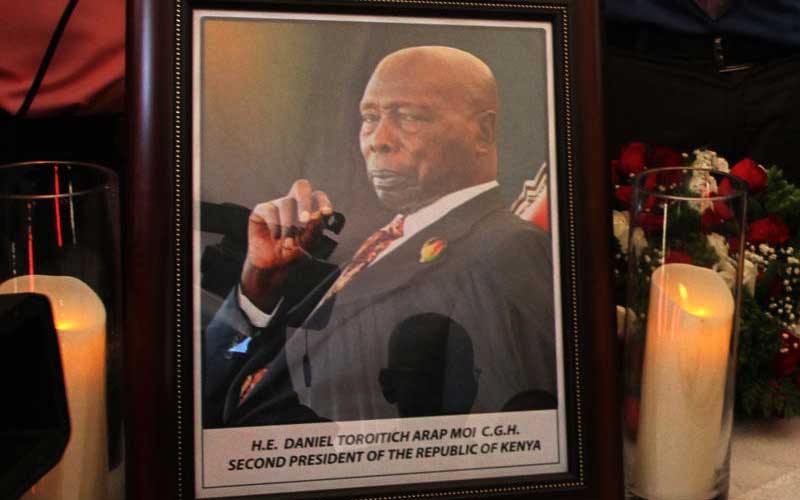 Former Kenyan Ambassadors have eulogised former president Daniel arap Moi as a peace loving leader who fostered regional unity.
Speaking yesterday in Nairobi, the ambassadors, led by Denis Afande and Sally Kosgei, said they remembered Moi for his policy of non-alignment that kept Kenya friendly with all peace loving nations.
The nearly 30 diplomats turned up at Parliament Buildings yesterday to view the body of the country's second president. "We, former Kenyan ambassadors, are deeply saddened by the passing on of Daniel Moi," the ambassadors said in a statement read by Mr Afande.
"We would like to express our profound condolences to the members of the family, Raymond Moi, Gideon Moi, Philip Moi, John Mark, Doris Moi, June Moi, Jennifer Kositany and the larger Moi family," the statement read.
The former envoys reminisced how Moi helped establish Nairobi as a city that could host a top UN office.
"He championed regional diplomacy that strengthened inter-regional trade through bodies such as the Common Market for Eastern and Southern Africa (Comesa) and the East Africa Community (EAC)," said Afande.
They remembered how Moi steered international relations and diplomacy to a high level that led to the solving of several regional conflicts.
The diplomats said Moi forged peace in the region by hosting the Somali National Reconciliation Conference in Kenya and the South Sudan peace talks.
"We shall never forget Moi's interest in fostering multilateral diplomacy, which made Kenya respected globally," Afande said.