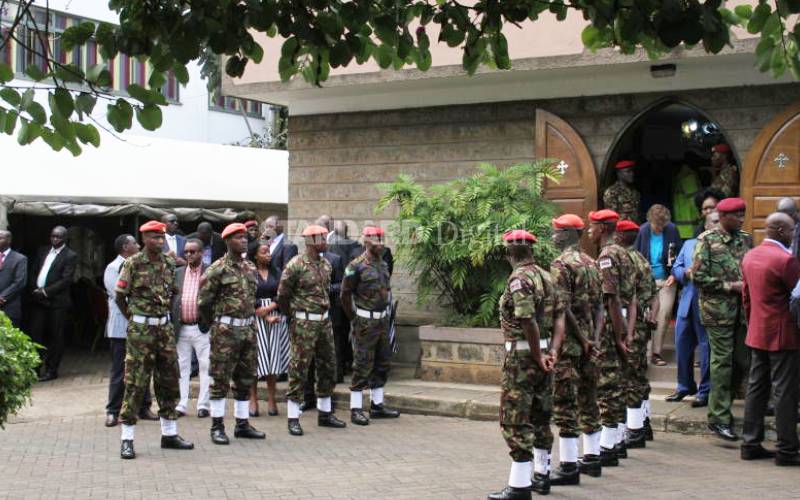 At around 7am, there was unusual presence of GSU officers directing traffic on Argwings Kodhek Road in Nairobi, yesterday. As time wore on journalists trooped to Nairobi Hospital.
A press briefing by former President Danial arap Moi's last born son, Baringo Senator Gideon Moi, at the hospital's reception area, was brief and lasted about a minute.
"Mzee passed on peacefully at about 5.20am this morning and we would like to thank Kenyans for their continuous prayers," said Gideon flanked by top government officials, including Interior Cabinet Secretary Fred Matiang'i, Chief of Defence Forces General Samson Mwathethe and Inspector General of Police Hillary Mutyambai.
Soon, Lee Funeral Home was a hive of activity after the body was moved there as news of the death of Mzee Moi filtered.
Read More
Leaders streamed into the funeral home to view Moi's body, after which focus shifted to Kabarnet Gardens following another press briefing by Rongai MP Raymond Moi.
By 9am, the area was jammed with high-end vehicles as more police officers in uniform and plainclothes moved in to secure the facility.
Lined up the entrance
While initially, leaders would walk in and out of the funeral home without any hindrance, the situation would change after about an hour. First, a military ambulance arrived with two of the soldiers on board wearing overcoats. They then walked into the funeral home.
A constant face was Lt Gen (rtd) Elijah Sumbeiywo, who served as army commander during Moi's reign. He would walk in, out and confer with a few people. At one point before midday, he appeared to be in deep conversation with Mwathethe and Mutyambai before the two walked out.
Later an army truck arrived with military police who disembarked and lined up the entrance to the funeral home letting in only a select few.
But some of the leaders got a chance to view the body of the former president when Deputy President William Ruto arrived at 11 am. Dr Ruto gave a brief speech before he left.
Leaders took the time to reminisce and appreciate the impact the late President Moi had on the country, especially their political careers. Others shared memories of their encounter with the former Head of State.
Former MP Phoebe Asiyo longed for the days of Moi rule saying the "unhygienic" political environment in the country and use of vulgar language has become the norm.
She said, "we need Moi in this country, more than ever before."
Ms Asiyo said it was unheard of for young people to insult their president. "It is unbelievable that Africans no longer shy away from insulting their leaders," the 88-year-old former MP said.
Former Nairobi Mayor Joe Aketch, who also served for 17 years as Chief Executive Officer of the Nairobi branch of the then ruling party Kanu, remembered Moi for his open-door policy, a rare trait in today's political dispensation.
"You would call State House and if not busy, he would request you to go see him," said Mr Aketch, who described Moi as his political father.
Bungoma Senator Moses Wetang'ula said he was introduced to politics by Moi after he nominated him to Parliament in 1993.
"And there I cut my first tooth in politics," he said.
He noted that in as much as Moi had his challenges, he steered the country through very difficult times, especially during the 1982 coup attempt and the re-introduction of multi-party democracy.
"There was an attempted coup in 1982 and yours truly here was the lawyer of the coup plotters and executioners, this will be part of my memoirs. That the country held together is a credit we must not deny him," he said.
Wetang'ula recounted how Moi brokered a peace deal between President Yoweri Museveni and warring parties when Uganda was in turmoil.
Stickler for detail
Amani National Congress leader Musalia Mudavadi, who served as the former president's vice president said he was a stickler for detail, firm ruler and was an early riser.
He said: "We have lost a respected leader, somebody who served this country with a lot of dedication, somebody who rose to the highest office from very humble beginnings, somebody who was respected across the continent of Africa and beyond."
Bahati MP Kimani Ngunjiri said he joined politics after Mzee Moi helped him secure a disputed piece of land.
"When I was being (dispossessed) of my land in Kiamunyi, I stopped on the road when he was passing and he came to me, he listened to me, took me to State House and helped me secure my land," he said.
National Assembly Majority Leader Aden Duale said he upholds Moi's mantra of "siasa mbaya, maisha mbaya".
He said Moi was a man of peace, unity and love and through his death, Kenyans should learn more of these attributes as leaders try to bring the country together through the Building Bridges Initiative.
"He did not give us a country that was divided, he will be remembered in Africa as one of the presidents who implemented what he said, his transition was one of the best democratically," Duale said.
Makueni Senator Mutula Kilonzo Jnr, in his message, said Moi predicted that multi-party in Kenya would open up the door to tribalism. "And that is where Kenya is. I'm asking Kenyans to start fighting corruption and start loving one another. The best way to remember Moi is we join hands and fight tribalism," he said.