Kenya says it is on top of things as locusts spread to 15 counties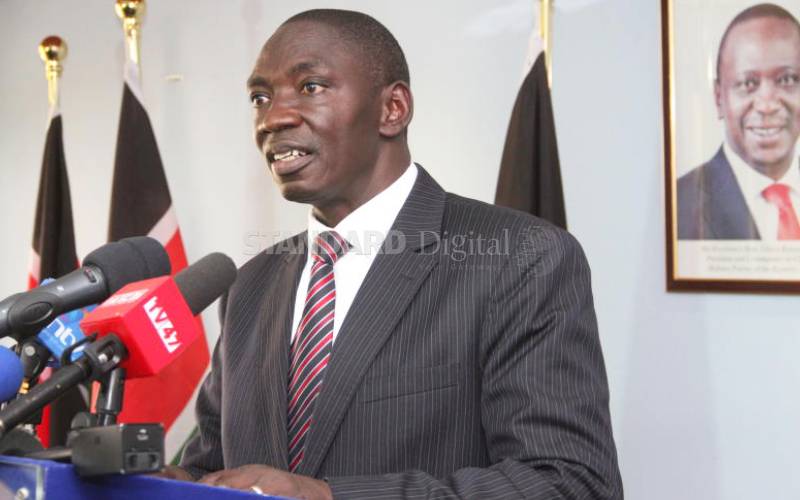 The locusts entered Kenya from Somalia and Ethiopia through Elwak and Mandera last December. They have invaded 15 counties, including Mandera, Wajir, Marsabit, Garissa, Isiolo, Meru, Samburu, Laikipia, Machakos, Baringo and Kitui. Other neighbouring counties are under serious threat of invasion, according to experts.
By last Thursday, insects migrated to the agricultural county of Murang'a where crops have started flowering after three months of rainfall.
The locusts feed on any green material, including crops, pasture, fodder and browse.
Even though the government insists the desert locust invasion situation is under control, a report by the Food and Agriculture Organisation (FAO) paints a different picture. FAO, in a report on Wednesday, said the locusts had started new breeding, which would cause more infestations.
Government spokesman Cyrus Oguna (pictured) said the State had laid down mechanisms and procedures to contain the infestation.
He said the Government had deployed nine aircraft to counter the spread of locusts, which have invaded 15 counties since December last year.
Rtd Col Oguna said five among the nine planes deployed to tackle the menace through aerial spraying were fixed-wing, while the other four were helicopters.
Aerial spraying
He said the fixed-wing planes were used for aerial spraying and the choppers for surveillance and signal dispatch.
"Since the destructive insects struck in December last year, the Government, through Desert Locust Control Organisation, has increased the fleet of aircraft being used in fighting the locusts from two to a total of nine currently," Oguna said while addressing journalists at Masinga airstrip in Machakos County last week.
In Embu, Oguna expressed optimism that Kenya would contain the insects.
Though he did not quantify the loss locusts had caused the country, Oguna admitted that the insects had destroyed crop and fodder, while the Government continued to incur running costs daily in fighting them.
The locusts have invaded semi-arid areas that were looking forward to bumper harvests after successive years of crop failure due to insufficient rain.
For Wajir, Mandera and Garissa counties, two spray aircraft from Kenya Air Force and Desert Locust Control Organisation for Eastern Africa based in Wajir have been deployed.
There is an additional one surveillance aircraft from the International Red Locust Control Organisation for Central and Southern Africa.
Oguna said Isiolo, Meru, Samburu, Laikipia, and Marsabit had one spray aircraft from Farmland Aviation in Isiolo and one surveillance aircraft from Kenya Wildlife Service.
"Intensive spraying of swarms has been carried out in these regions for the last three weeks," he said, adding: "Airplanes have been deployed to the other affected counties".
Swarm from Mwingi
"The control operation in Kitui and Embu counties started on Saturday last week after a swarm that crossed from Mwingi in Kitui County was reported in Embu's Kiambere area. Spraying was done in Kivou ward, Mwingi Sub-county, Kitui County," he said.
Oguna said the government had deployed a team of experts to affected areas to train and mobilise teams to support control efforts. A total of 145 officers from Mandera, Wajir, Isiolo, Marsabit, Samburu, Kitui and Meru have been trained and deployed to undertake monitoring of the pests and also support the control team, he said.
Treasury said in a recent Budget Policy Statement that the locust invasion posed a great risk to agricultural production and food security.
According to FAO, if the infestations are not contained, they could culminate in plagues that could take several years to control and gobble up hundreds of millions of shillings.
FAO estimates that Ethiopia, Kenya and Somalia need $70 million (Sh7 billion) to tackle the plague.