Speaker Elachi in trouble over benchmarking tours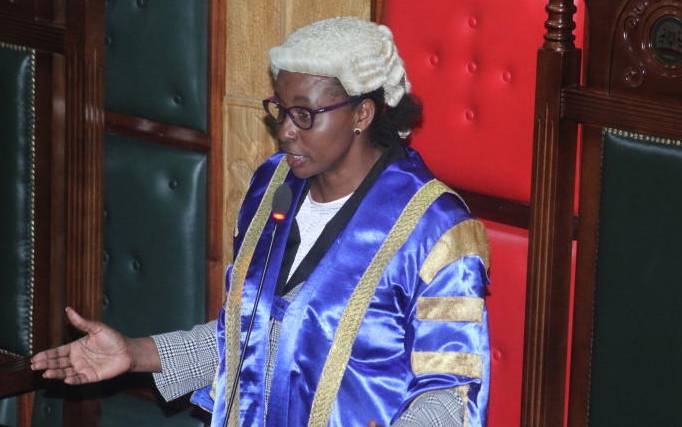 The on-going county study visits by members of Nairobi assembly has raised eyebrows, with some MCAs claiming it is a well-choreographed plot to steal from public coffers.
Concerned MCAs further faulted the timing of the tours, arguing they coincided with Building Bridges Initiative (BBI) rallies.
Speaker Beatrice Elachi (pictured) says there is no connection between the study visits and BBI consultative meetings, insisting they were planned long before BBI rallies kicked-off.
She said the MCAs making the allegations are those who are not included in the study tours aimed at benchmarking in other counties.
"These do not study visits but a rip-off of public funds disguised in nonexistent tours. We have evidence that our colleagues, after being paid per diem, head straight to BBI rallies, while others never step out of Nairobi, and we know who is behind all the shenanigans," said one MCA.
The Nairobian has seen documents showing an expenditure of about Sh6 million on trips to Kakamega, Mombasa and Kilifi counties. Curiously, the study visits coincided with BBI rallies.
Elachi claims the visits were mooted soon after a proposal to have the Nairobi Regeneration Team to oversee county operations in the absence of governor and deputy governor.
"Why are they not telling you that before BBI rallies started, we have gone to Naivasha and Kisumu. There is no connection between the study visits and BBI rallies," she said.
The Speaker explained that the tours were informed by the need to learn from what other county governments were doing and how they were running their affairs.
"We are trying to find out a way of unlocking Nairobi without paralysing operations, and this is why these study visits are important," added Elachi.
In Kakamega, there were two separate delegations for the benchmarking visits between January 16 and 18. The first delegation, which received Sh838,300 in allowances, comprised 19 individuals, among them, 13 MCAs and Speaker Beatrice Elachi.
The second delegation had 14 MCAs and three county assembly staff members. This team received a total of Sh686,600 in allowances. The allowances were for per diem and transport.
The study tours coincided with the BBI consultative meeting at Bukhungu Stadium on January 18. The Mombasa and Kilifi trips ran concurrently, from January 23 to 26. The BBI rally in the coast was held on January 25 at Mama Ngina Waterfront in Mombasa, where county clerk Salim Juma, had invited the Nairobi delegation for the study visit.
"Thank you for your letter dated 20th January 2020, contents whereof have been noted. This is to inform you that the County Assembly of Mombasa has no objection to your intended visit to our Assembly as per the contents of your letter under reference," said Juma in the latter to acting Nairobi clerk Monica Muthami.
The 37 MCAs were paid a total of Sh2,294,000. Each member received a daily per diem allowance of Sh14,000 in addition of Sh20,000 for transport. Accompanying them were eight-county staff who spent Sh355,200.
About Sh2.2 million was spent on the Kilifi trip, which comprised a different team of 36 MCAs and nine county staff members that were in Kilifi between January 24th and January 25th. Documents show money for the two study trips were approved on 23rd January.
"This is a classic case of corruption and we shall be taking the matter to the Ethics and Anti-Corruption Commission (EACC). If these indeed study visits, we need to be told the nature, purpose, and benefit to Nairobi residents," said another MCA.