Babu gets Sh10m bail, to keep off alcohol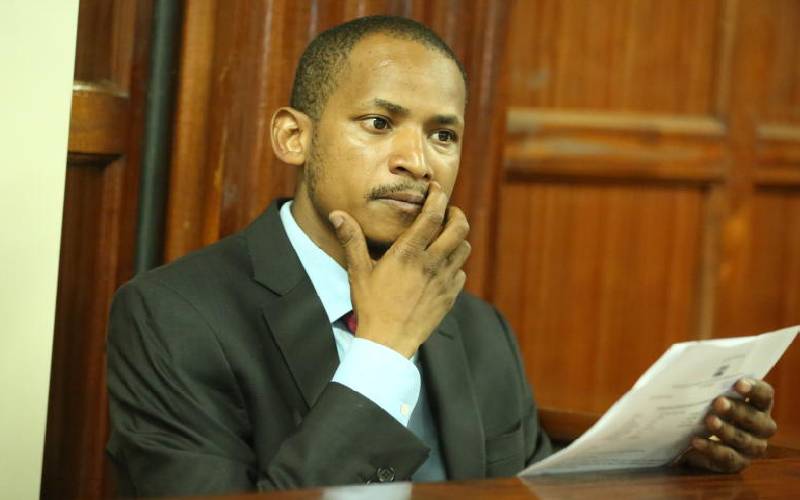 A Nairobi court yesterday ordered Embakasi East MP Babu Owino (pictured) to deposit Sh10 million cash bail to secure his freedom. Some of the money will go towards paying hospital bills for the man he is accused of shooting.
The MP has been accused of shooting Felix Orinda, popularly known as DJ Evolve, at a city club.
Chief Magistrate Francis Andayi directed that Babu deposit the cash bail in four equal installments of Sh2.5 million each in the next three months.
The MP was ordered to deposit the first installment to secure his release.
While making his ruling, Andayi considered that the victim's family cannot afford to settle the hospital bill at the Nairobi Hospital.
The court has also prohibited Owino from taking alcohol or narcotics in a public establishment pending the hearing and determination of the case.
The family had opposed the release of the MP on bail, saying they were concerned about their security because the accused is an influential person within the community and may subvert justice.
Victim's concerns
According to the prosecution, the victim was interviewed in hospital where he is said to have voiced concerns over his safety.
"I am tired, I am in pain and am traumatised. I don't want to talk and I cannot fathom anything. I have not slept for days because I am scared of my life and future," DJ Evolve is is quoted.
Jacob Ondari, from the office of the Director of Public Prosecutions, told the court that the victim's family said if the court was to grant Owino bail or bond, protective measures should be put in place to ensure that their concerns are addressed.
"Owino's sentiments that he needs to be out on bail so that he can perform his legislative duties are not in the bail/bond rules," said Mr Ondari.
He added that it is the duty of the court to balance the rights of the accused and those of the victim