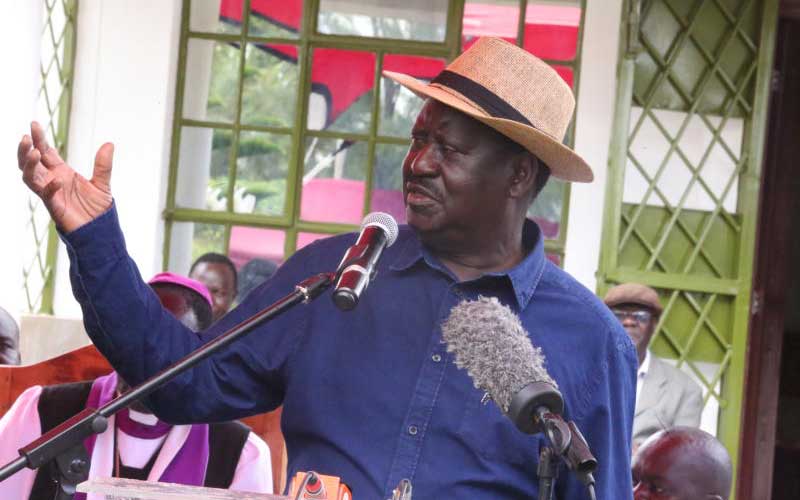 Orange Democratic Movement leader Raila Odinga (pictured) says he is only worth Sh2 billion.
"They are saying I am so rich, which is not true," he responded to a question on his wealth, saying he thinks he is just worth Sh2 billion.
Raila was speaking on Sunday in an interview with NTV.
"That is not very rich. That (Sh2 billion) is in terms of properties," he added, noting that his Karen house is worth about Sh300 million.
The opposition chief disclosed that he also owned shares in some companies but did not mention which ones or the value of his ownership.
When pressed on what amounts to being rich, Raila avoided a straight response and said his Sh2 billion is not in cash.
Asked if his family had benefitted from his long tenure in politics at the expense of the electorate, he held that they had not received anything.
"There is nothing that the Odingas get. We don't benefit anything. What I have told you is what we own collectively," he said.
He added that all of the Odinga descendants are working and living off their salaries.
"As we sit here, I have no salary that I am earning. My brother is in Arusha. He would not be there if he had other wealth elsewhere which he owns. He would be sitting pretty."
Raila was referring to his elder brother Oburu Odinga who is a member of the East African Legislative Assembly based in Arusha, Tanzania.
Sharing the little
Raila went on to add that his family shared the little wealth with their constituents, insisting their charity is known to everyone.
"There is nothing hidden...Jaramogi [Raila's father] died a very poor person. He was in the government for only two and a half years. We have inherited very little from him."
He went on: "I started my own business which is employing people in Industrial Area in Nairobi. Whatever we have done is in very good faith. We have invested in the molasses industry which is not working right now as the sugar mills are not working."
At the same interview, Raila questioned the source of Deputy President William Ruto's wealth.
He said a lifestyle audit on the second in command would show that Ruto's wealth is questionable.
The host paused a question to the ODM leader on whether he would work with Ruto, to which he said he would, only if the DP shared his values.
He said Ruto's source of wealth cannot be explained, making it impossible to work with him.
"Before I get into any relationship, I will question."
He added that Ruto leading the country as President is not impossible as he would have won an election, chosen by the people.
While Raila's comments on the DP are unexpected, it remains to be seen whether he will indeed work with him if he declares his wealth.
The two have recently been political rivals, a relationship that fell frostier with Raila's newfound unity pact with President Uhuru Kenyatta.
2022 elections
Raila was non-committal on whether he would be seeking an elective post in the next General Elections and denied that the BBI was aimed at expanding the executive to accommodate some people.
He said 2022 was not a topic he wanted to discuss as at the moment as his focus and that of President Uhuru Kenyatta was in championing inclusivity.
He dismissed the claims that he was using the BBI process for his political growth.
"I'm not here to eat anything. I am here for posterity," he said.