My track record in fighting graft speaks for itself, says President Uhuru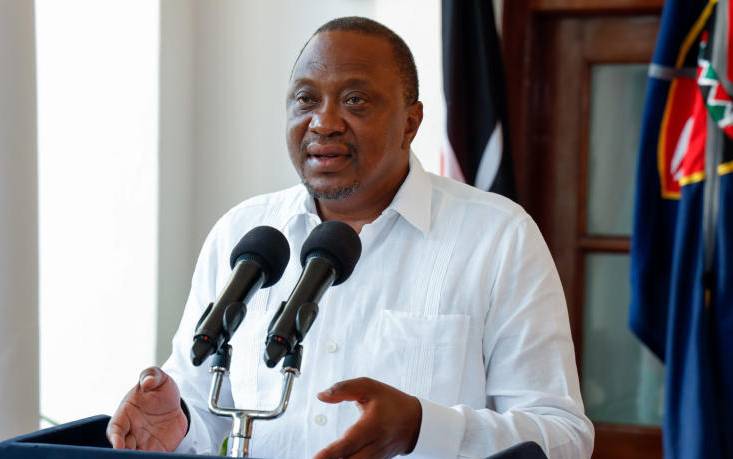 President Uhuru Kenyatta (above) says his administration is unmatched in the fight against graft and that he has staged a campaign that the country has never witnessed.
Addressing the nation from Mombasa, President Uhuru affirmed that he would continue supporting the fight against corruption and would not be intimidated by critics.
"I want to renew my pledge to you on this fight. I will not turn to the left or right, I will not soft-pedal, or back-pedal, nor be intimidated. I will make no covenants with evildoers neither will I show mercy to those who rig our markets in order to enrich themselves," he stated.
"I seek the indulgence of the Judiciary because I believe that no administration in the history of this country has prosecuted corruption cases the way I have done…from ministers to governors, senior government officers, procurement officers, I have been on the frontline."
Uhuru said the Executive had fulfilled its mandate in the fight against corruption and that the ball was on the Judiciary's court to convict the suspects.
"I have no power of convicting the accused. We have done our part and now the Judiciary should give us convictions as an indication that we are winning this war," he said.
In what seemed like a thinly-packaged dig at the courts, the President referred to the Akasha brothers' case in which US courts sentenced them within a year after Kenyan courts failed to nail them.
"It is a shame to our country that we prosecuted a case against drug traffickers in our country and we couldn't get a prosecution. And, within a year of them being arraigned in the United States, they have been jailed for no less than 25 years. That is something that our Judiciary should come to terms with."
He added that the fight against corruption has yielded results because state officers now fear to engage in the vice. He said that the government had changed tack and has resorted to fighting graft at source and not after it has happened.
He also directed the National Intelligence Service to focus its attention on unmasking and netting the crooks that he said had been looting public resources through public systems of budgeting, procurement, regulations and the illegal rigging of markets.
He directed the NIS to look at agriculture sector, this is in the same speech where he dropped Agriculture CS Mwangi Kiunjuri.
President Uhuru's address comes at a time that the Judiciary and the Executive are having strained relationships with lawyers and judges accusing the Executive of defying court orders.
Yesterday, the Attorney-General Kihara Kariuki was summoned to appear in court to explain the state's defiance of court orders issued regarding the return of lawyer Miguna Miguna.
On November 4, 2019, Chief Justice David Maraga criticised the Executive for mistreating his office.
"Unless I am treated with the respect I deserve, I will choose state functions to attend," CJ David Maraga told a press conference.
He added: "The CJ is not accorded the respect accorded to his office...CSs and PSs are cleared to enter in places before the Chief Justice."
Maraga lamented that the Judiciary was starved of cash argued and that there were some government officials conspiring to wage war against it over prosecution of some cases.
He vowed to stay put despite the challenges.
"They have been saying that the CJ must be removed from office before the end of this year, but I will not resign even if they push me to the wall. I am not serving to please any CS or PS; I am here to serve the people," said Maraga.