Gideon wasn't summoned or questioned, say DCI officials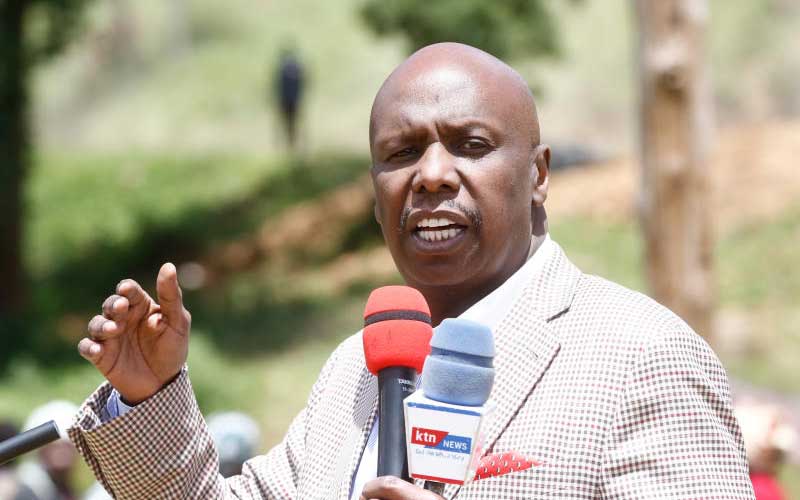 The Directorate of Criminal Investigations (DCI) yesterday denied claims that Baringo Senator Gideon Moi was questioned by the police.
This comes as Mitchell Cotts Kenya Limited, a major shareholder of Mitchell Cotts Freight Limited refuted allegations that Gideon was one of its shareholders.
DCI Head of Investigations John Kariuki said the police had not summoned the Senator for questioning as alleged in a story that appeared in the Daily Nation. "We have not summoned the Senator or recorded any statement from him," said Mr Kariuki.
Gideon, who is also Kanu chairman, has given Daily Nation seven-day ultimatum to apologise and pull down the story that was published on Thursday claiming that he was quizzed by DCI over a Kenya Ports Authority (KPA) tender.
"We also seek that you pull down the online version of the story appearing in the Daily Nation website. If we do not receive your written admission of liability as indicated above within seven days from the date hereof, we have firm instructions to proceed against you," said the Senator through his lawyer Ochieng Oduol.
Mitchell Cotts Freight Limited won the tender to offer additional storage facilities for transporters on behalf of KPA.
Sam Odera, the General Manager of Human Resource at Mitchell Cotts Kenya, insisted that the company that the senator is purported to have an interest in, and which the article claimed to be holding company for Mitchell Cotts Kenya Limited, does not exist.
"There is no company called Mitchell Cotts Limited," said Odera. Mr Odera also noted that Mitchel Cotts Freight won the tender competitively beating more than 15 other bidders. They were awarded the tender in September 2018.
Take a quick survey and help us improve our website!
Take a survey
The lawyer noted that some of the factors that helped them win the tender include, among others, having a paved yard, enough equipment, adequate businesses and the fact that they had done such business for over 15 years. The Senator in his seven-page demand letter sent to the Daily Nation, its editor and reporters, said that the article has tainted his reputation as an honest state officer and business person.
"Our instructions are that the said article was calculated to disparage our client in his character and reputation as a Senator, State officer and holder of public office and further that the publication thereof has injured our client in his character and reputation as a senator, Statesman and holder of public office and legitimate individual with business concerns both in and outside of Kenya," the demand letter reads in part.
The Senator wants Daily Nation to admit that it defamed him, publish an apology which ought to be approved by his lawyers and given as much prominence as the defamatory publication.