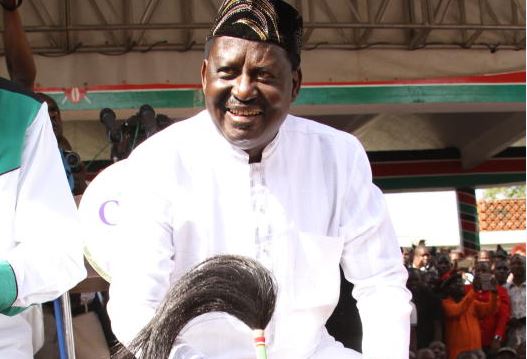 The American poet Henry Wadsworth Longfellow (1807-1882) has told us that the lives of great men remind us to make our own lives sublime. Such notable lives urge us to make our own marks in the sands of time before departing into the next world. The older we grow, the more significant these thoughts get. In this week of his 75th birthday, ODM leader Raila Odinga may want to reflect on great lives in history, and especially the older great lives. He may wish to mirror himself and his dreams against these great lives. What does tomorrow hold in store for him? At 75, twilight begins gathering from far. Will he realise his foremost dreams? Or will he be eternally hopeful, without achieving his ultimate goals? Raila turned 75 on Sunday, January 5. He has had a remarkable political life. His foremost investment has been in this domain – politics.
SEE ALSO: Change ye first your ways and all the reforms you desire will come
Indeed, the Odinga family is synonymous with politics. As the saying goes, it has won some and lost some. To tell the Odingas to retire from politics is to ask them to stop breathing. For this is what they do for a living. Everything else is subsidiary. Hence, Raila has taken four shots at the highest office in Kenya, with varying degrees of shaves and misses.
First shot
In the language of football, his favourite game where he is renowned for hilarious commentaries on the campaign podium, he has only one more shot left. Indeed, there are those who would think that he has none. In 1997, he placed the first shot way off the mark. In 2002, he stepped back and allowed his teammate, Mwai Kibaki, to place the second shot in the net. The next round in 2007 was chaotic. Some said he had placed the ball in the net. Others said it had hit the crossbar. Yet others said it had gone off the mark. The referee, Samuel Kivuitu, said he had no idea what had happened. Raila was forced to share the spoils with Kibaki. The next two shots were lost to the duo of Uhuru Kenyatta and William Ruto. So, those are five penalty kicks, in the language of football.
SEE ALSO: Power homes: Where political dreams are made and careers killed
Raila has his own right to take a fifth shot, seeing that he surrendered the second one to Kibaki. Moreover, unlike football, nothing stops him from shooting again and again. It is never too late. Raila knows this only too well. Accordingly, he is set to kick off his 2022 campaigns with rallies lined up in Kisii this weekend and in Kakamega on Saturday, January 18. Wearing the face of Building Bridges Initiative (BBI) awareness forums, the two rallies are effectively ODM forums, fronted by ODM governors. The taste of that pudding will come after the ODM strongholds have been exhausted. That, however, is a bridge to be crossed when the time comes. For now, ODM is reloading for what promises to be the mother of all campaigns. It is the start of a make or break season for their captain, the party and the party's notables and grandees. At election time in August 2022, Raila will be only four months away from his 78th birthday. It is all he must do to shake off age as a barrier.
SEE ALSO: Prepare for 'President Raila', says Murathe
The great Winston Churchill was 65 when he became the prime minister of the United Kingdom in 1940. By any standard, he had lived a full life. He already enjoyed an illustrious political career. While he has not bagged the ultimate prize, Raila, too, has lived a full life and had an illustrious presence. His command is such that even when he is out of government, he cannot be ignored. Constitutionally, he is not even the leader of the opposition, on account of there being no such position. Yet it does not matter, for the man has become an institution. Ignore him at your own peril. President Kenyatta knows this only too well. The president is awake to the call that leaders must keep their friends close and their adversaries even closer. But time and tide wait for no man. His ageing times and tides are Raila's biggest political threat. Another great poet, Andrew Marvell (1621-1628), famously said that although we cannot stop the sun, we must make him run. Like Churchill, Raila must make his sun run. Past electoral defeats need not be an impediment. People lose elections and bounce back. Churchill had many electoral victories and significant losses, too, in a parliamentary career of up to 64 years. He represented five constituencies and served under 13 prime ministers, to say nothing of his own two terms. He held prestigious and powerful cabinet portfolios at an age considered to be the sunset of life. Even at 71 in 1940, his best dance was yet to come. Churchill would go on to lead a victorious free global community in World War II. At his death in January 1965, the world was agreed that he was "the man of the first half of the 20th century". The ultimate prize at the end of 1999 went to Albert Einstein for transforming science. Sir Winston, according to various pollsters, came second, for defeating dictatorship. Sir Winston could have gone home younger. The course of world history would have probably been different. He chose to stay on. Sir Winston's critical lesson for the political world is that it is never too late. Age, ultimately, should not matter. Indeed, even past electoral victories and defeats count for nothing. The big irony in Churchill's tour of duty was that his Conservative Party lost the July 1945 election, only a few days to the end of World War II in September of that year. He had to sit out in the back benches for five years as the leader of the opposition, before making one final return as PM in 1951 to 1955. He resigned in 1955 on grounds of poor health, but continued serving as an MP until 1964. With his own catalogue of defeats and frustrated dreams and ambitions, Raila may yet have his day in the sunshine. He knows that Mr Kibaki became president at 71 and retired at 81. Kibaki left behind a good record of economic and development achievements for his country. It is not his fault that his successors have failed to build on this There have been other notable older leaders. Mahatir Mohamed was re-elected the prime minister of Malaysia at 92 in 2018, on grounds of a sterling record. Back home, Mzee Jomo Kenyatta (1891-1978) ascended to power at 72 in 1963. South Africa's Nelson Mandela ascended to power at 76 and retired at 81. At his back, however, Raila must hear time's winged chariot closing in. It is an incontestable chariot. It rides on its own wings and fuel. Nobody can stop it. It is in the anxiety to balance between things that he can control and those in the wings of the chariots of time that the challenge resides. It is very well the kind of challenge that could easily see his dreams turn into ashes. Ahead of him, his father Jaramogi Oginga Odinga came very close to ascending to the highest office in the land. But he never got there. A miss is as good as a mile, the saying goes. Daniel Branch in Kenya Between Hope and Despair: 1963 – 2011 remembers the youthful Jaramogi of the pre-independence era as "a forcefull personality (who) fully justified his nickname of The Bull. He is recalled as a character whose support for nationalism had been unshakable in the years leading up to independence." His patriotism was demonstrated in his firm belief that Kenya should not go to independence while Kenyatta was in detention. Moreover, Charles Hornsby recalls that it was Jaramogi who pushed for Kenyatta's return to political life after detention. In Kenya: A History Since Independence, Charles Hornsby recalls, "There was no natural constituency for Kenyatta until Odinga created it. Between 1958 and 1959, Odinga led a reassessment of Kenyatta amongst the fledgling political elite that transformed him into a leader-in-waiting." Others warned Odinga to be careful about the man he was rooting for. In the end, their fears for Jaramogi became true. Following their wide ideological differences, the two giants of Kenya's early years of independence steadily drifted apart. It was a drift that effectively marginalised and eventually locked Jaramogi out of State power for the greater period of 1966 to 1992. His dreams of capturing power through his new vehicle of Kenya People's Union (KPU) after resigning from Kanu in 1966 were thwarted. KPU was banned in 1969 following the infamous Kisumu riots of that year. Jaramogi was safely away in detention when the elections took place later that year. He was again locked out of the 1974 elections, although he had been released and rejoined Kanu. The same happened again in 1979. Efforts to form an opposition party in 1981 were rewarded by the jailing of his colleagues – George Anyona, Njeru Gathangu and Ngotho wa Kariuki. This went hand in hand with changing the constitution to make Kenya a one-party State by law. Jaramogi's dreams of power were frustrated to the extent that he was reported in the 1990s to have pleaded with President Moi "to allow him to rule for only two days". Efforts to spring back in 1992 ran foul when he fell out with Kenneth Matiba and Martin Shikuku in their earth-shaking machine that had been the original Ford Party. Kibaki joined the fray to form the Democratic Party in December 1991, and to widen the choices in the Opposition. Kibaki only helped to scatter the votes, making it even more difficult for any one of them to win the 1992 presidential election.
Dreams of power
At 75, Raila will want to recall this history, even as he has eloquently told a part of it in his autobiography, The Flame of Freedom. He will want to remember that apart from the race against time, there are many other embedded races. There is the race for the support of who owns Kenya. It is a race he has always lost. Those who own the country do not like unpredictable and threatening figures. They love stability and a safe country. Rightly or wrongly, Raila has the outlook of a threatening and feared political figure, even among those who sit with him. As he begins his rallies towards 2022, he will do well to shed off the image of belligerence and antagonism. Already, the battle lines seem to be taking shape. ODM seems to be gearing up for confrontation with Deputy President Ruto's Tangatanga faction in the Jubilee Party. Also on the horizon are a section of Western Kenya leaders, under the wings of ANC leader Musalia Mudavadi and Ford Kenya's Moses Wetang'ula. His competitors would be only too happy to profile him and ODM as the synonyms of disorder and violence. His BBI rampages across the country must, therefore, be measured. He will also need allies on this mission. His relationships with other National Super Alliance (NASA) co-principals seem to be on a steady downward spiral. Yet he cannot wish them away. He will either mend fences with them, or find and market new leaders in their backyards. Either option is easier said than done. There are those who view him as a serial self-focused deal breaker. He must manage this perception. New friends will possibly want to embrace him against the caution of history. Old friends are likely to ask him to play second fiddle this time. It is a dilemma he must resolve either way. Above all, BBI must work – and it must work like the silver bullet that it is not. But even if it is not the silver bullet for the country, BBI is Raila's bullet train to power. He will do well to make people trust him through pleasant persuasion rather than threatening fiat. He must cause helpful people to board MV BBI.