MPs scoff at Uhuru's threat over conflict of interest law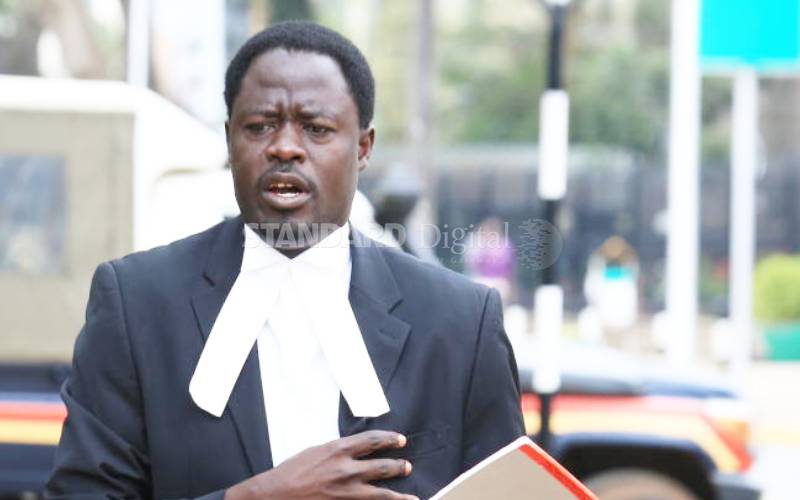 Lawyer MPs have dismissed President Uhuru Kenyatta's push for a proposed conflict of interest Bill that could lock out at least 45 lawmakers from practice until the end of their term.
The MPs said the Bill "will go nowhere" even as they called out the president, accusing him of doublespeak. They pointed out that lawmakers were part of Jubilee's defence team during the 2017 presidential election petition and at the ICC confirmation hearings at The Hague.
At Jamhuri Day celebrations last week, the president questioned if it is proper for MPs to appear before an institution they are supposed to oversight, and asked the State Law Office to slam the brakes on the habit by fast tracking the Bill.
It came a day after Senate Majority Leader Kipchumba Murkomen and his Makueni counterpart Mutula Kilonzo Jnr appeared for Nairobi Governor Mike Sonko in a corruption-related case.
Presidential election
The president chastised lawmakers for appearing in court. However, Mr Murkomen and Tharaka Nithi Senator Kindiki Kithure were part of the Jubilee legal team during the 2017 presidential election hearing.
Mr Kithure also appeared at The Hague where Mr Kenyatta and his deputy William Ruto faced crimes against humanity charges.
Meru Senator Mithika Linturi, while dismissing the Bill, cited the irony of the president condemning a practise he has been a beneficiary of.
"Does it mean that when Murkomen represented him during the petition and Senator Kithure appeared at the ICC there was no conflict of interest then? Has it become conflict of interest when Murkomen is representing Governor Sonko in court? I think the president is a master of doublespeak," said Mr Linturi.
"We are yet to see the Bill, but we should be careful not to make laws for individuals but for posterity. In any case, you cannot tell a lawyer to close his practice, yet our position as MP is contractual for a period of five years. We will oppose that seriously unless there are other provisions that provide for recovery for loss for non-practice."
Nandi Senator Samson Cherargei said the Bill "is dead on arrival" as it seeks to fight corruption through the back door.
"The Bill will go nowhere. We shall continue practicing because the proposal is unconstitutional, illegal and ill-intentioned. It amounts to punishing politicians," said Mr Cherargei, who also chairs the Senate's Justice, Human Rights and Legal Affairs Committee.
A draft of the Bill states that ''a public official shall not engage in any gainful employment which the official is mandated to regulate or exercise oversight".
This effectively pulls the rug from under the feet of lawyer MPs who oversight various institutions, including the Judiciary.
Already, the State Law Office has called for public input into the proposed legislation, a pointer that the Bill could be introduced in the House as soon as MPs return from recess in February next year.
It is the context in which the president spoke about it at the Jamhuri Day celebrations that has ruffled feathers, as it appeared to target lawyers.
"Is it fair for legislators who have control over funds and exercise oversight over the Judiciary to appear in courts as counsel? Is it fair on the judicial officer hearing the case or the other parties that one party in the case is represented by persons who can literally change the law applicable to the dispute, control the career progression of the judge or magistrate, or are able to speak with the voice of an entire arm of Government," asked Uhuru.
Conflict of interest
Murang'a Senator Irungu Kangata said the principle of conflict of interest should not be used to condemn a whole profession.
"Why target lawyers, yet we have other professions such a businessmen? I think the law can be improved to provide that someone who holds a leadership position in Parliament should not represent a client in court. As a senator, I cannot represent someone facing county audit queries. However, placing a blanket condemnation would be unfair," said Mr Kangata.
Homa Bay Town MP Peter Kaluma argued that the president misdirected himself on the principle of conflict of interest, which although recognised in law, does not limit professionals from engaging in gainful employment.
"Conflict of interest as a principle secures that the personal interest, financial or otherwise, of a public officer does not clash with the proper discharge of public duties. The president is overstretching the principle by suggesting that MPs who are professionals should not be engaging in practice, even for free. Any proposed legislation overstretching this principle or merely targeted at a profession like law will be rejected outright," he said.
Welcome proposals
Ndaragwa MP Jeremiah Kioni, however, welcomed the president's proposals.
"Can you imagine a situation where a committee of the House recommends that a person is prosecuted and when he appears in court, a senator who sat in the committee appears for the same person in court? It would amount to defeating the whole purpose of oversight," said Mr Kioni, who is also the chair of the National Assembly Constitutional Implementation and Oversight committee.
He found an ally in Nominated Senator Isaac Mwaura who said: "Ideally, one should not represent a client in court until they leave Parliament. Allowing that to happen is to promote, encourage and therefore supply political corruption. The Law Society of Kenya should also guide their members."
But Mbeere North MP Muriuki Njagagua said he would oppose the proposals as they are unconstitutional.
"A legislation that seeks to bar an advocate of the High Court of Kenya who happens to be an MP to represent an accused person in court is unconstitutional. When such a law is brought to the National Assembly, I will oppose it."
On his part, Makueni MP Daniel Maanzo said MPs would carefully scrutinise the Bill once it is brought to Parliament.
"You cannot make a law that is biased. It should cover all business. Once it comes, we will debate it. If it does not contradict the Constitution, then it will be fine."