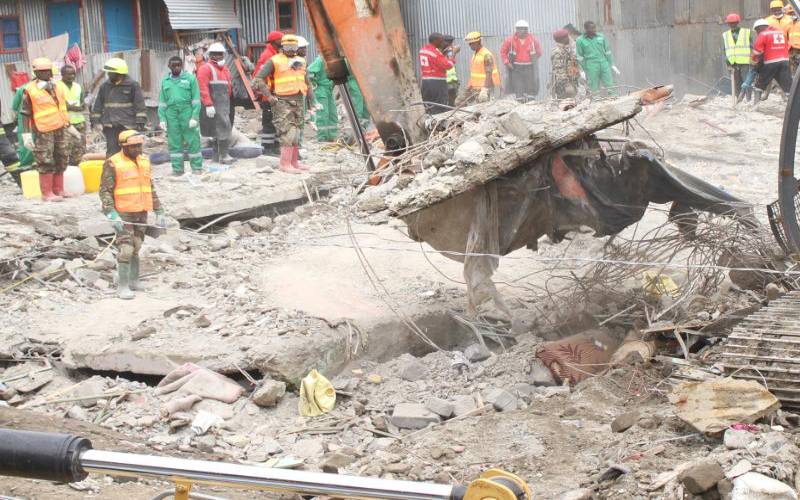 Four days after a building in Tasia estate, Embakasi, Nairobi, collapsed killing 10 people and injuring 36 others, no one has been apprehended.
In spite of residents' complaints stating that the structure was in poor state, the owner of the six-storey structure has neither been identified nor questioned.
John Onsongo one of the residents told Standard Digital: "When you look at the pillars of the building you'll find out they used Y12 steel yet it should've been Y16."
Locals said that the tragedy was imminent since the building had shown signs of collapsing through cracks on the walls.
According to them, the building was literally hanging by a thread for months but tenants did not move until on Friday when it collapsed amid heavy rains trapping several people and killing 10.
The cause of the disaster is yet to be established but, some residents have linked it to heavy rains and poor drainage.
"Things have been bad since the rains started and it has very poor drainage," said resident Ken Odero.
Now residents want the owner of the building arrested and charged.
But who and where is the owner?
More than 72 hours later, authorities have not yet arrested the owner of the collapsed building.
Yet, in a similar incident in September when a classroom caved in and killed seven pupils and injuring 64 others at Precious Talent primary School in Dagorretti, Nairobi. its owner was arrested and charged within 72 hours.
What makes the authorities shy away from arresting the Tassia building owner?
On Monday, the chairman of the Association of Construction Managers of Kenya Nashon Okowa asked the National Building Inspectorate (NBI) to investigate the incident.
The NBI is expected to gather samples from the site, before preparing an audit report.
But no one is yet to take responsibility for the tragedy.