Nairobi MCAs want agency to run garbage collection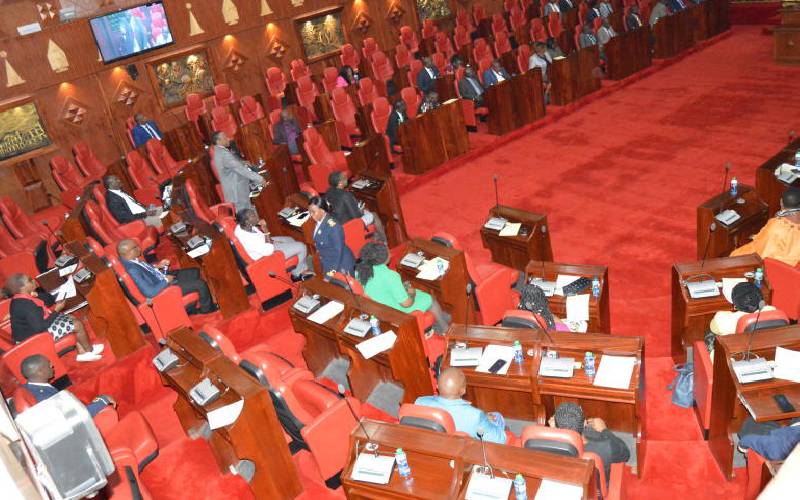 Solid waste management in Nairobi may soon be done by an independent agency of the county should Governor Mike Sonko's Executive implement a motion passed by the assembly.
Last week, the county assembly approved a motion calling for the introduction of an independent body — the Nairobi City County Waste Management Authority — to deal with the garbage menace rocking the capital.
The MCAs who supported the motion argued that the Environment department, which is currently in charge of garbage collection, did not have adequate capacity to handle the challenge and had been held hostage by cartels, leading to the loss of public funds.
Approximately 2,000 tonnes of waste is generated daily in Nairobi, but poor access roads to the city's official dumpsite in Dandora has led to faulty garbage collection tracks, consequently hampering garbage collection and disposal.
Establish entity
"Solid waste is an emerging health threat to both levels of government and underscoring its effect on the lives of the people living in Nairobi, the environment and well-being of the city. This assembly urges the county government to establish a county entity to be known as Nairobi City County Waste Management Authority, with a view to providing leadership and regulating the sector," states the motion.
The motion moved by Dandora Phase II MCA Silas Matara indicated that the implementation of waste management faced numerous challenges, ranging from corruption within and beyond the county government, lethargic nature of county staff and citizenry faced with apathy and collective irresponsibility for waste management.
Ethics and Anti-Corruption Commission (EACC) is currently looking into the disputed awarding of garbage collection tenders by City Hall to the tune of Sh200 million a year.
"We have seen the improvement of service delivery, water supply and sanitation services to Nairobians since the establishment of the Nairobi City Water and Sewerage Company. As such, it means that waste management should be handled in such a manner," said Mr Matara.
Matara argued that the creation of a waste management authority would not only create employment to scores of youth that are unemployed but also attract donor funding, which will go a long way in addressing the garbage problem.
"Nairobians are choking with waste all over. We know the county is trying as much as possible, but still we cannot be able to handle the 2,500 tonnes of waste that is produced in Nairobi daily," added the MCA.
Haphazard disposal
Nominated MCA Millicent Jagero called on the Executive to come up with policies to guide on waste disposal and penalties for haphazard disposal of waste.
"If you walk around Nairobi then you will find a lot of waste and those cleaning dump the waste anywhere. Collection points have also not been clearly identified and in that regard I want to urge the Executive to come up with policies on waste management and stipulate repercussions for those found throwing waste anywhere," said Ms Jagero.