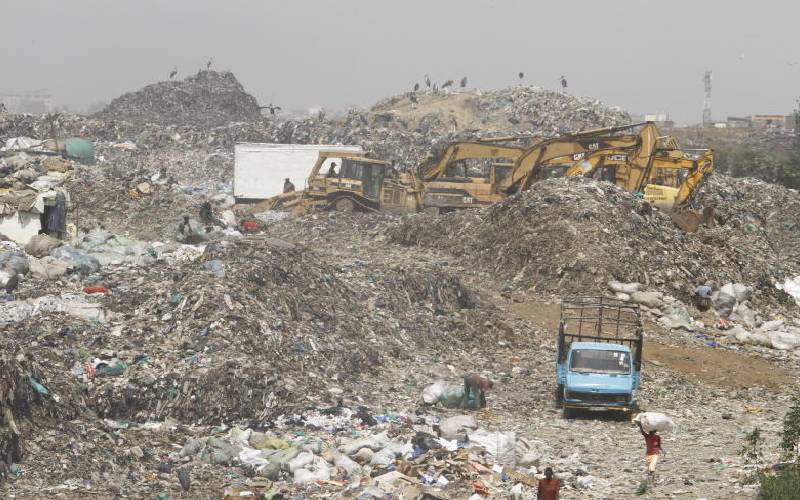 The Nairobi City County Government is set to fork out Sh10 million for the construction of five new feeder roads leading to the Dandora dumpsite.
The roads are meant to ease access to the county's official dumpsite that sits on a 32 acre yard, given the dilapidated state of John Osogo road, which is the only access road to the dumpsite.
This was revealed during a County Environment committee meeting last week, where Environment CEC Vesca Kangogo had appeared to table the county's development plans for the 2020-2021 financial year.
The committee heard that the executive was seeking to improve access to the dumpsite by 25 per cent. This, however, attracted the ire of the MCAs, who called out the executive for its delayed repairs on John Osogo road.
The ward reps sought to know why the county had failed to repair the road for the past 15 years, yet it was agitating for more funds for other roads.
Read More
"The executive are now proposing money for five other roads, yet they have failed to upgrade the one and only access road to the dumpsite," posed Embakasi MCA, Michael Ogada.
Dandora phase 4 MCA, Francis Otieno said previous contractors working on John Osogo road were doing substandard works, despite having been paid for 70 percent of the work done in the last financial year.
A spot check by The Standard further reveals that millions have always been allocated for the repair of John Osogo road and six other access roads since the year 2015, but they are still in a deplorable state.
In 2016, for instance, Sh220 million was set aside by City Hall for the repair of John Osogo road. The executive blamed heavy rains for the bad state of the road. At the same time, the county government plans to spend Sh40 million for the construction of a new weighbridge at the dumpsite, after years of relying on estimations, hence incurring losses.