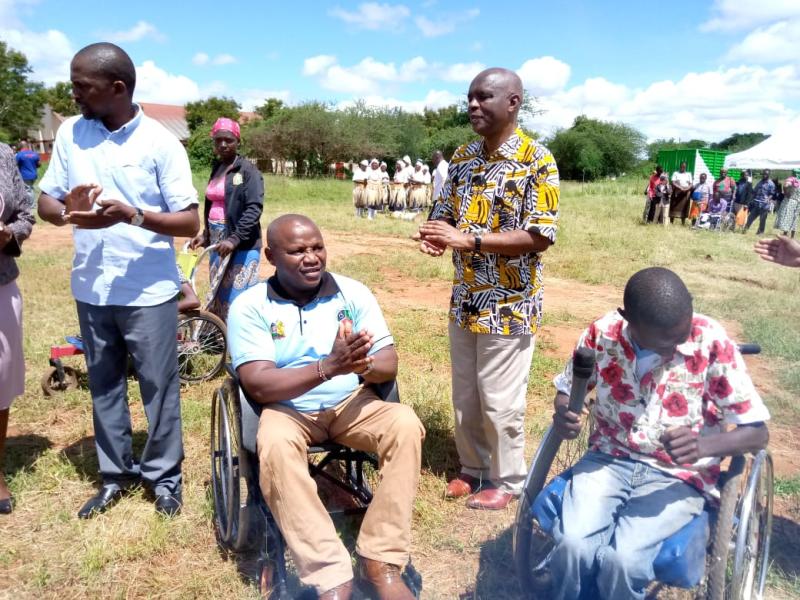 Persons Living with Disabilities have lamented discriminative practices across the counties as World Disability Day was being celebrated in Makueni County.
The national event was celebrated in Kinyambu Primary for the Special in Kibwezi East Sub-County.
The group lamented their inability to access information from the county forums since most of the counties have not employed the use of sign language interpreters six years since the start of devolution.
"We don't get information in counties. We have brothers and sisters who have no gift of hearing, we only see sign language interpreters in media. We should leave no one behind," said the Chairperson of PLWDs Kibwezi Constituency Agnes Musembi.
She further lamented how PLWDs had been denied the five per cent job slots which are stipulated in the law. Musembi asked counties to follow the constitution while employing people in various departments so that they can cater for their families.
Makueni County Chairperson for the Disabled Persons Benjamin Ngulu said that Building Bridges Initiative (BBI) had not captured their grievances claiming they will only support it if is amended to contain their advocacies on disability rights.
"If BBI will not address the issue of the disabled to be nominating their own to represent them in Parliament then we want to tell the president we will not support it. We want to be nominating our own people to Parliament, we don't want nominations done through political parties. Nothing about us without us," said Ngulu
He said the number of PLWDswas not known due to the lack of a good structure running from the village level to the national offices.
The group took the Ministry of Education to task when they questioned why disabled children in special schools were required to pay while other children have their education fees cleared for by the government.
"We do not have free primary education since our children in special schools are paying school fees. We need the process of free education to be reviewed. There is a need also to modify public buildings, structures among other places to be accessible to all," said Ms. Agnes
Makueni County Commissioner Maalim Mohammed in his speech said he will ensure the group is mainstreamed in all decision-making committees.
The chairperson of the National Council for Persons Living with Disabilities Peter Michiri said the council will devolve the PLWDs assessments to every county to know their exact numbers.
The council used the day to distribute bursaries, wheelchairs and dummy cheques to special groups.