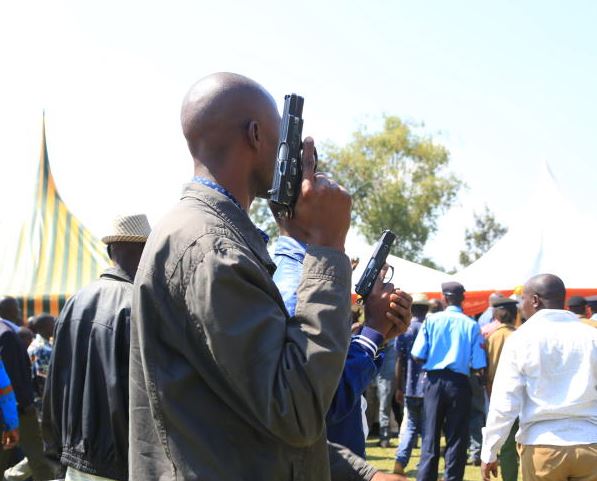 They lurk in dark alleys and along the corridors of night clubs. Sometimes you see them idling on the streets in major towns, swinging their bulging biceps like soldiers ready for combat. Their mean faces is a marketing strategy because any form of a smile is a sign of weakness. Others mean well, others don't. Sadism, swagger walking styles and readiness to hurt and even kill are some of the characteristics that attract them to the would-be clients. The tougher you are, the bigger the market and the higher the pay. During low seasons, they hang around egocentric politicians and business executives, pretending to be providing security as they wait for main jobs where they are expected to destroy property and spill blood.
SEE ALSO: Man convicted for the murder of police officer in Nyamira
Trail of destruction
When real duty calls, the hirelings transform themselves into heartless human beings. They can twist your neck in a split second. They can kidnap you, burn your car, destroy your valued property or even kill you, depending on the instructions from the pay master. During political party elections, they are hired to kick ballot boxes and disrupt the process if their paymasters are not winning. They have also disrupted public meetings, leaving behind a trail of destruction. They have broken into offices to evict company executives. People hire them to beat and even kill their spouses. The hired youths have featured prominently in land disputes in major towns. When you want to fence off a disputed property, you are either with them or you are alone.
SEE ALSO: The life and times of granny criminal
Welcome to Kenya's growing underworld of goons, otherwise known as the Men in Black, a name most likely lifted from blockbuster Oscar award winning film,
Men in Black, directed by Barry Sonnerfield.
Kenyans have in the past few years watched in disbelief as organised gangs took over the work of the police. It has become fashionable for Kenyans to hire "Men in Black" to help them solve disputes instead of relying on police officers. Yet not all of them are hired to hurt or cause destruction. Some are hired to help control crowds in public functions. Although dressed in black suits, some are extremely harmless and are religious, only hired to help maintain law and order to supplement the work of the police. "We should be careful when classifying these people. Some are dangerous, yes. But we also have bouncers who are very religious. They help us restore peace and order during church functions," says Fred Obera, a Seventh Day Adventist church elder. The brutal killing of six young men hired to provide security at a funeral procession in Butula, Busia County, on Friday has exposed the dangers in the growing need for private security.
SEE ALSO: Woman held for burning her son's fingers with kerosene
Could it be that the six were innocent men who were not properly briefed on their duties and what to expect on the ground? Were they prepared to deal with the situation on the ground? All the same, what happened in Butula calls for a fresh look at the ruthless and shadowy underworld of the Kenya's Men in Black (hired private security), who are quickly replacing the police for crowd control and other security-related issues. In a tear-jerking and fatal incident, the six who had been hired to provide security to a widow who was having problems with her co-wife during the burial of their slain husband, were cornered and killed in cold blood by villagers who questioned their presence in the area.
Reality of the killings
The six were all from Ahero township in Nyando, Kisumu County, where they work as bouncers and other security-related duties. Their families were yesterday in shock as the reality of the killings, backed by gory pictures of the bodies circulating online, filtered in. Nyando MP Jared Okello, who joined the families at their homes yesterday, expressed shock at the killings and called for detailed investigations into the matter. "It is shocking. We are yet to be told the details of what happened but it is sad we have lost very young men from one area," Mr Okello said. The history of hired goons is as old as Kenya's political competition. "It is the fashion. If you are fighting over land and you have not retained the services of goons, be sure to lose the battle," says Caleb Ojuok, an equal rights campaigner. "If you are fighting over leadership in an office and you want to block your competitor from accessing that office, just go for the hirelings. They will do it easily." It is believed that Nairobi and Kisumu have the highest number of "Men in Black" and equal rights campaigners are now asking the police to dismantle these illegal groups being managed by goons. In Kisumu, the youths, most of them energetic but jobless, belong to specific groups through which they are recruited into dangerous security jobs. A former leader of the once dreaded Kisumu Baghdad Boys, Audi Ogada, who is now running peace and human rights campaigns, says the goons-for-hire business is a ticking time bomb in the country. "It is a very serious issue. What happened in Bumala on Friday must be a concern for the police and all of us. I think the increasing number of youths being hired to cause trouble and even kill people must worry the Kenya Police Service," Mr Ogada says. He says the jobless and vulnerable youths are paid between Sh500 and 1,000 to execute very dangerous jobs. "I have seen many of these young people being ferried in lorries to fight the wars they know nothing about," Ogada says.