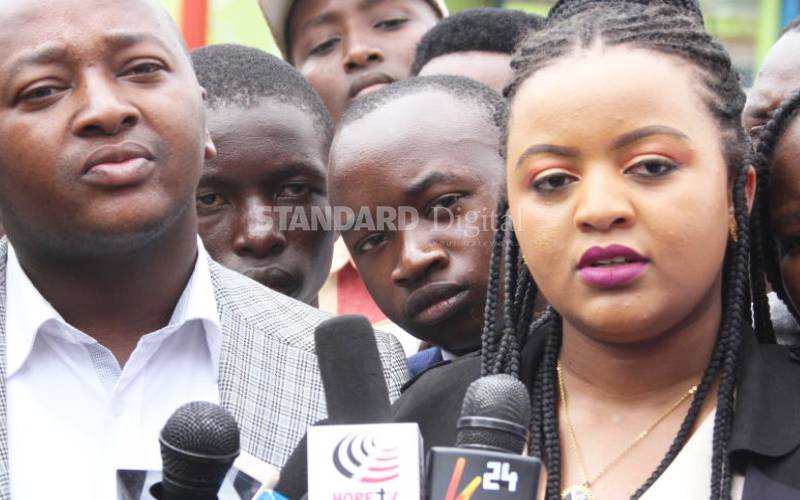 Four police officers behind an attack on Jomo Kenyatta University of Agriculture and Technology (JKUAT) students have been interdicted. Inspector General of Police Hilary Mutyambai said the officers had been identified from a video that captured them brutalising students. Mutyambai did not, however, name the said officers, raising questions on whether they had actually been punished. He said the officers would face further action, including an internal disciplinary processes after recommendations of investigations by the Internal Affairs Unit.
SEE ALSO: JKUAT boss and council chair in fierce battle over top official
Mutyambai said it was not necessary to name them at this stage, as this would affect their families. "Trust us, more action will be taken. This is just preliminary action. We are not protecting anyone," he said. The police boss also said there would be an identification parade as part of the investigations. "We commend the individual who had the presence of mind to record the incident. We also thank Kenyans who made it to go viral," he said. The Independent Policing Oversight Authority (IPOA) defended the IG's decision not to name the officers. Chairperson Ann Makori said it would be wrong to name the officers at this stage, adding they had launched independent investigations. "It may lead to mob lynching. We will handle it professionally. We have dispatched our team to investigate the matter to enable us hold the officers to account," she said.
SEE ALSO: Why EACC is after university over multi-billion-shilling building
Kenya National Commission on Human Rights chairperson Kagwiria Mbogori wants quick investigations. "The commission is cognizant of the promised action by the IG that officers found culpable in the despicable act will face the law," she said. There has been an uproar after a team of police officers sent to quell protests by the university students on Monday were captured clobbering them using clubs. One of those attacked is a fourth year Food Science and Technology student. The students had taken to the streets to protest against insecurity at the institution when the anti-riot officers cornered him.
SEE ALSO: More queries why JKUAT closed campus in Eldoret
Amnesty International CEO Irungu Houghton said excessive force was used on students during the protest. "Violent policing during public demonstrations must stop. It is impossible for the public to distinguish hooligans both in and out of police uniforms. Officers who break their code of office must be held individually accountable for misconduct, sanctioned and made to compensate victims," he said. University of Nairobi student leader Ann Mvurya said it was not the first time the police were attacking university students. She said students who report cases of police harassment are usually harassed or even arrested by the same officers. "There is evidence students have been reporting such cases only for them to be turned away," Ms Mvurya said yesterday.