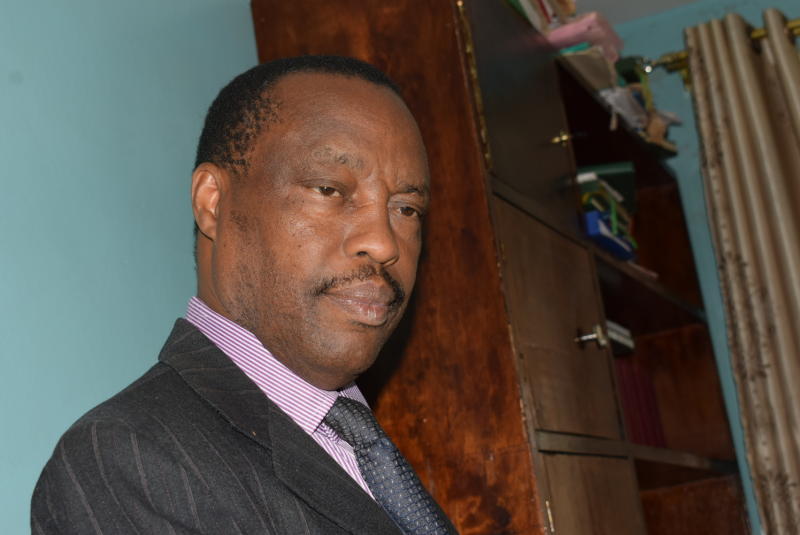 Former government pathologist Moses Njue (pictured) yesterday claimed there is a conspiracy by former acquaintances to end his career in medicine.
While testifying at the inquest on the death of a former Meru administration chief who died under mysterious circumstances in 2015, Dr Njue said allegations that he took away the heart and kidney of the deceased without the permission of the family were untrue and part of a conspiracy to destroy his reputation.
Njue told to the court that he was hired by Martha Gakou, the youngest widow of the deceased, to represent the family during a post-mortem examination at the Consolata Nkubu Mission Hospital mortuary.
The post-mortem was conducted on March 12, 2015 by Njue and Meru County pathologist Scholastica Kimani.
Read More
"Once we reached an agreement with members of the family, they identified the body and I made the notes as Dr Kimani did the excisions," Njue told Senior Resident Magistrate Evans Mbicha.
Superficial injuries
He said the body of the deceased had minor superficial injuries on the face and an old scar on the chest.
"In the heart, we found one of the ulterior arteries had closed and made a conclusion that he had died of a heart attack," Njue said while being questioned by State counsel James Kinyua.
He, however, denied Kimani's earlier testimony that he was the one who took samples of the urine, stomach, heart and kidney for further tests.
Njue told the court that a second post-mortem on the body was conducted five months later at the Meru Funeral Home on August 18, 2015 after one family member got exhumation orders.
Those who attended the second autopsy included himself and Kimani, as well as Chief Government Pathologist Johansen Oduo and Slyvester Maingi from the Embu Level 5 Hospital.
Asked by Kiama Wangai, who is representing one family of the deceased, why he was implicated in the lost organs case, Njue claimed it was part of a conspiracy to bring him down.
The hearing continues on January 23.