Police officers, KDF Corporal arrested over Sh72m robbery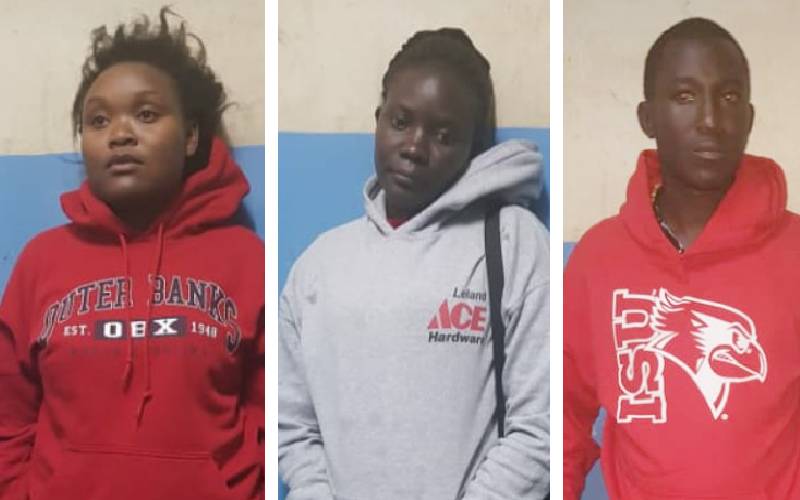 Three police officers and a KDF soldier have been arrested in Kikuyu and Githurai as suspects in the September 5, Sh72 million Nairobi West robbery.
One suspect escaped.
Acting on a tip-off, officers from the Special Crimes Prevention Unit proceeded to Thika town where they arrested officer Simon Karuku and his wife Caroline Njeri, also an officer.
The couple had gone to an advocate with a view to seeking an anticipatory bond in connection with the Nairobi West robbery.
Robbers in police uniform stole Sh72 million from Standard Chartered bank's Nairobi West branch on September 5. Subsequent investigations revealed they were actually officers.
In a dramatic robbery that police said could have been an inside job, three armed men dressed in Administration Police uniforms stole the money as it was being delivered.
The money was being transported from the G4S headquarters in Industrial Area to Standard Chartered's Nairobi West branch - a distance of about four kilometres.
Back to today's arrests, Karuku and Njeri led the police to Kahawa Barracks where they found Karuku's sister Eunice Wangari.
According to police records, Wangari, a KDF soldier, was left with the money in a bag but had left for burial in Nyahururu.
Police say Wangari directed them to pick the money bag from Karuku's sister AP officer Florence Wanjiru, who was guarding a bank.
When the officers found Wanjiru, an OB entry says, she informed them that on receiving the money, she called her boyfriend.
Police say Wanjiru told them her boyfriend escaped with the money.
Officers later arrested Wangari, Karuku of Kampi Ya Samaki police post and his wife Njeri.
They were taken to Lang'ata police station pending investigations.
According to police, the thieves seemed to have prior knowledge of how the cash was being moved. They were armed with rifles.
G4S officers who were transporting the money said they thought the thieves were police officers assigned to escort the cash.
The criminals executed the robbery without firing a single shot.
Police said part of the cash was stolen as the G4S employees transporting the money readied themselves to remove it from the van to the bank. The rest of it was withdrawn from an ATM in Nairobi West.
On September 16, Police recovered Sh2.3 million more of the Sh72 million. A suspect who had been arrested in Machakos took police to his grandmother's house in the area where they recovered the cash in new banknotes on Monday. According to police, the suspect is a brother to another suspect who had been arrested on September 12 in connection with the heist.
SEE ALSO :Sh7m recovered, two cops arrested in connection with Sh72m heist
After interrogation, he took police to Machakos where his grandmother aged 60 had kept the money. The money was taken away by police. The Director of Criminal Investigations, George Kinoti, said they are looking for more suspects and hoped to recover more cash from them.
He added the latest suspect was arrested in Muumandu in Machakos following a tip-off.
Police had earlier on recovered Sh7 million from two of the suspects in custody. Six other suspects were still being held over the heist and set to appear in court.
Police investigations show the masterminds were from the security firm staff, police and bank staff.
They reportedly plotted how to hire two vans to ferry their loot from Nairobi West to Thogoto Forest in Kikuyu where they shared the same.
They intentionally left behind a team that was to pick the money and roped in the two officers who were in uniform and armed. Those scheduled for the day's work were never picked up from their residences as earlier planned.